Laura's Sustainable Canadian Condo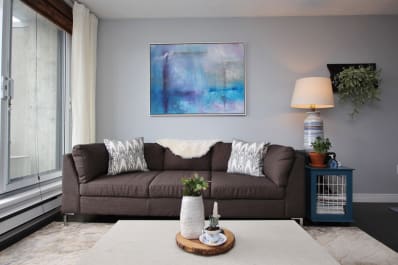 (Image credit: Laura Paul)
Name: Laura Paul
Location: Ottawa, Ontario
My home is an 850 square foot, two-bedroom condo in Old Ottawa South, which I purchased when moving back 'home' after living in Toronto. Sustainability is my passion, and Buildings are my canvas (I obtained a Bachelors in Civil Engineering). I went to work renovating the dated condo to be more sustainable, and inline with my personal aesthetics.
(Image credit: Laura Paul)
My focus was on removing petroleum based materials, and replacing with natural materials (wood, metals, stones). I used some creative juices to keep the budget low, my 'go to's' included: dumpster diving, refurbishing, reuse and diy's. When I purchased new materials I considered their initial sustainable impact as well as end of life.
(Image credit: Laura Paul)
Some projects/components I'm most proud of:
Creating my own statement dining room table from a refurbished IKEA iron table (which I painted white) and old wooden FSC board which I stained walnut.
Dumpster diving a classic old wingback chair, and getting it cleaned/reupholstered
Face lifting instead of replacing, all items I could - such as the cabinets and tiles (repainting/updating hardware/re-grouting).
Creating a walk-in closet with curtains and home building closet system
(Image credit: Laura Paul)
Bathroom vanity has hand hammered sink (found at Habitat for Humanity ReStore) and concrete countertop (created from local stones).
Wood floor from trees harvested over 100 years ago which sank to the bottom of the Ottawa River and have been preserved there (Logs End)
Canadian designed and manufactured furniture (EQ3 Sofa and seat)
No VOC paint
Non animal based materials (no wool, silk, etc)
Energy Savings: removed AC, lighting sensors, programmable thermostats
(Image credit: Laura Paul)
I think in the end, I created a space that is comfortable, crisp, and modern - while still being inline with my passion and ethics.
Thanks, Laura!
• Interested in sharing your home with Apartment Therapy? Contact the editors through our House Tour Submission Form.