Lauren & Breeze's Best Friend Duplex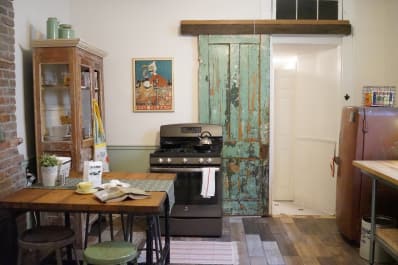 (Image credit: Submitted by Lauren )
Name: Lauren & Breeze
Location: The St. Roch Neighborhood — New Orleans, Louisiana
It's not very often that you hear about two friends buying a home together. In fact, most people would warn against the idea. But that's exactly what my best friend, Breeze, and I did last May. We both were in love with the city of New Orleans. NOLA was pure magic for us. We had talked about buying a home, fixing it up and decorating it together. It was our dream. When we came across a shotgun cottage duplex in the St. Roch neighborhood, we put an offer in without even seeing the house in person. We both just knew. Yeah, we were a little crazy.
(Image credit: Submitted by Lauren )
Each side had 800 square feet, two bedrooms, bath and kitchen, and each side needed A LOT OF WORK. When our offer was accepted, we got started immediately. We wanted to bring back as much of the original charm as we could with a home that was over hundred years old. We uncovered six brick fireplaces behind the walls (that's one in every room!). We knocked out all of the awkward built-out closets. We scoured Craigslist and salvage yards and found cypress doors, pocket doors and summer fronts begging for a second chance in a home. And that's just the tip of the iceberg.
(Image credit: Submitted by Lauren )
As for the decor, it was a blast working together because we had a similar vision — vintage charm influenced by Jazz and the magical Crescent City. We went on a no-sleep, three-day "American Picker" tour of the south, driving from South Carolina to New Orleans and filling up our U-Haul along the way. Man, we have some stories.
(Image credit: Submitted by Lauren )
Our biggest splurge was the SMEG fridge (Breeze had to have it). I was content with a Coldspot Frigidaire I bought off a neighbor down the street. The other splurge was on the artwork. We found a New Orleans artist, Wayne Manns, and fell in love with how he takes salvage items from old mansions (like old windows and shutters) and incorporates them into his work. We each got a large piece for both of the living rooms. What's most impressive is that we renovated and completely furnished both sides in two months! It wasn't all easy- there were tears, there was major price fatigue, and there were triumphs. It was an adventure. When we would hit a wall we would repeat our mantra, "necessity is the mother of invention." This came in handy, especially when the bathroom on one side was two inches too small to fit a standard claw-foot tub. Solution? Tear out a cubby hole that not only fits the lip of the tub, but also acts as a shelf for shampoo and soaps. I painted gator legs on the bathtubs claw-feet and Breeze turned some old horns and cast iron wheels into gorgeous shelves.
(Image credit: Submitted by Lauren )
The home is a work-in-progress, but we think of it more as a love letter to New Orleans.
Thanks, Lauren & Breeze !
• Interested in sharing your home with Apartment Therapy? Contact the editors through our House Tour & House Call Submission Form.