Lauren and Shawn's "Beautiful and Bright Retreat"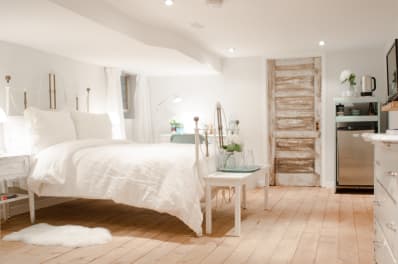 (Image credit: Lauren and Shawn)
Name: Lauren and Shawn
Location: Toronto, Ontario
Lovers, builders, crafters and believers that a Shared Life is truly a beautiful thing, our latest home renovation was a basement conversions from a dark uninviting space to a beautiful and bright retreat that we are renting as a B&B.
Each detail was daydreamed about, hunted for and brought together to create a space for our guests to truly unwind and indulge in.
(Image credit: Lauren and Shawn)
The original 100 year-old wide plank wood floors bring a sense of warmth and history to the space that pop against the light grey walls and white accents. A custom-built barn door separates the sleeping area from the laundry and private bath with tub and shower.
(Image credit: Lauren and Shawn)

Weekends scouring craigslist and local antique markets is where we found the furniture pieces for the space, which were given and new life after being sanded down and refinished with the exception of the 100 year old French metal bed frame, which we left in its original stunning form.
(Image credit: Lauren and Shawn)
Honey tins from our wedding with sweet succulents and fresh flowers tucked inside them bring life to the space and a "Line a Day" journal allows each of our guests to tell the story of a year of visitors.
(Image credit: Lauren and Shawn)

Our passion for design and building each detail with our own hands fueled us through this project and together we are so excited to invite people in and welcome them home.
You can see more photos of Lauren and Shawn's lovely home on their blog The Shared Life.
Thanks, Lauren and Shawn!
• Interested in sharing your home with Apartment Therapy? Contact the editors through our House Tour & House Call Submission Form.