Lauren Graham & Alexis Bledel Talk About the Gilmore Girls Revival & the Possibility of More Episodes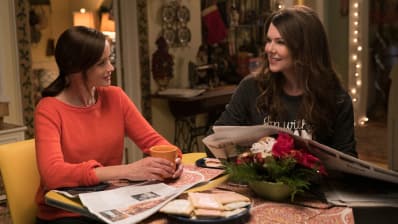 (Image credit: Netflix)
On Sunday, Lauren Graham and Alexis Bledel were on a panel together, and naturally, all anyone wanted to talk about was Gilmore Girls. The actors behind everyone's favorite verbose mother-daughter duo chatted about the Netflix revival and the possibility of more episodes. [Spoilers]
The pair were on hand for Deadline's The Contenders Emmy panel, and they were asked about the recent news that Netflix was in "very preliminary" talks for more episodes of Gilmore Girls: A Year in the Life.
"The worst thing is to wait a couple of years for your favorite show to come back and for it to disappoint you but they sure delivered and people were really excited about more and we have been talking to them about the possibility of that," Ted Sarandos, Netflix's chief content officer, told the U.K. Press Association back in March.
Since that news came out, "it has become a dialogue with the fans of the show; if it all existed in a vacuum I would play that character until my dying day," Graham told the crowd, though she also says that neither she nor Bledel has been approached yet about a second season of the revival that aired last year on the streaming service.
The two also share their reactions to the end of the four-episode arc.
"It certainly wasn't the ending I was expecting," Bledel said. "I told Amy [Sherman-Palladino, show creator] that I hoped Rory would end on a high note. After all her hard work, I wanted to see her succeed and be thriving. So it was a hard thing for me to digest. I was hoping that we would see that she had lived an interesting life and had been fulfilled up until this point where her grandfather dies and [she] comes back home. But, because I know Amy after all these years, I knew it was her true intention and it was something that satisfied her as a writer because she knew the reaction she was going to get from the audience. … So I trusted her."
Graham wasn't expecting it, either; she didn't know what the last four words were until Bledel said them for the first time. "It was a complete surprise to me — and that's not an ending, that's a cliffhanger!"
But she did admit, "I don't know if there is a need to do more. I would never want it to feel like we overstayed our welcome. … There's probably a way to keep these characters alive but I don't know if that's the best thing for them."
Anyway, Sherman-Palladino's The Marvelous Mrs. Maisel was just picked up for two seasons at Amazon according to EW, so a return to Stars Hollow may just have to wait.
Read more of the panel discussion over on Deadline.