Lauren's Mesh of Opposites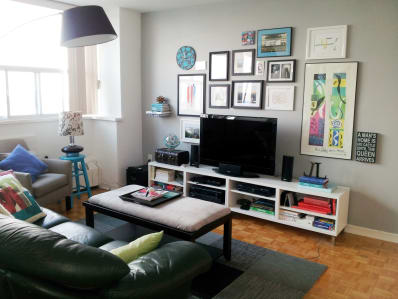 (Image credit: Lauren Ebedes)
Name: Lauren Ebedes
Location: Toronto, Canada
My fiancee Jordan and I have been living in our 900 square foot apartment in midtown Toronto for 1.5 years and our apartment is a constant evolution. As an interior designer and lover of design blogs and DIY projects, I am continually looking for ways to improve our pad on our modest budget. Do I think I'll ever be done decorating our apartment? Definitely not...because what's the fun in that?
(Image credit: Lauren Ebedes)
I would describe our apartment as a mesh of opposites. Our apartment is a mix of old and new with hand-me-downs that we love and those that we are saving to replace.
(Image credit: Lauren Ebedes)
Nevertheless, we love the eclectic combination of modern clean-lined pieces and charming furniture with a story. We've also combined a neutral white palette with pops of bright colors in our accessories and art.
(Image credit: Lauren Ebedes)
Lastly, our apartment combines off the shelf items with those that needed a little TLC or flat-out makeover. Our DIY projects include the upholstered coffee table, refinishing of the dining chairs and rug made of assorted carpet tile samples.
Thanks, Lauren Ebedes!
• Interested in sharing your home with Apartment Therapy? Contact the editors through our House Tour Submission Form.