Le Creuset Just Launched a Brand New Color That's a Must-Have for Fall
We
independently
select these products—if you buy from one of our links, we may earn a commission. All prices were accurate at the time of publishing.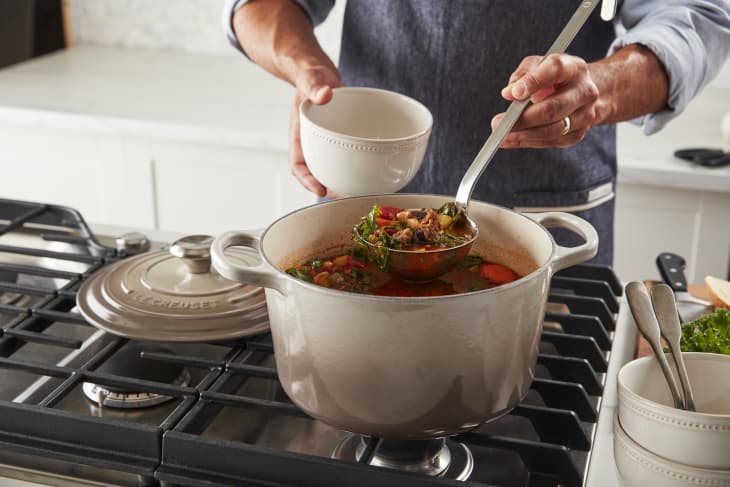 What could possibly make the start of fall — aka soup and stew season — even better than it already is? Stocking up on some new cookware, of course! To help you do just that, Le Creuset has announced the newest color to their line of cast-iron cookware and stoneware bakeware, which includes their iconic Dutch oven. Starting today, you can get your favorite Le Creuset pieces in Nutmeg, a warm, neutral shade designed to be a gorgeous stand-alone item or to easily blend in with the rest of your cookware.
The famed French cookware manufacturer with nearly 100 years of history in the business is always impressing us by coming up with new glazes — often with bold pops of color — to proudly display on our stovetops. Nutmeg, however, goes in a supremely chic and understated direction: Its rich, earthy tones are ideal for matching your already-existing cookware and bakeware. And, while it's perfectly cozy for fall, it'll also be a soft hue for winter or spring, making it a timeless addition to any kitchen.
There are several Le Creuset heirloom pieces available in Nutmeg, the most notable of which is their signature Dutch oven. It's available in the 4.5-, 5.5-, and 7.25-quart options, each perfect for making all your favorite cozy soups and stews this fall, depending on the size of your household. Similar to the Dutch oven, you can also get the Mini Round Cocotte or Braiser, which are great for personal-sized desserts and beautifully seared meats, respectively.
For making gloriously cheesy casseroles and gooey fruit cobblers, Le Creuset's baking dishes are just what you need. Because you'll use these square bakers over and over again, you'll be grateful you got them in this neutral tone for displaying any time of year or serving from them at the dinner table.
Speaking of timeless pieces, the Demi Kettle is yet another wise investment if you're looking to shop this new hue. It'll look beautiful on any stovetop and heats up quickly for when you want to enjoy a nice cup of tea before bed.
If you were already planning on investing in some high-quality cookware and bakeware to make the most of your favorite fall recipes this year, then Le Creuset has a lot for you to check out. You can also shop the collection at Sur La Table. And, with their Labor Day sale happening right now, you can pick up several items at major discounts!