TikTokers Are Transforming LEGO Storage Shelves Into Colorful Coffee Tables
We
independently
select these products—if you buy from one of our links, we may earn a commission. All prices were accurate at the time of publishing.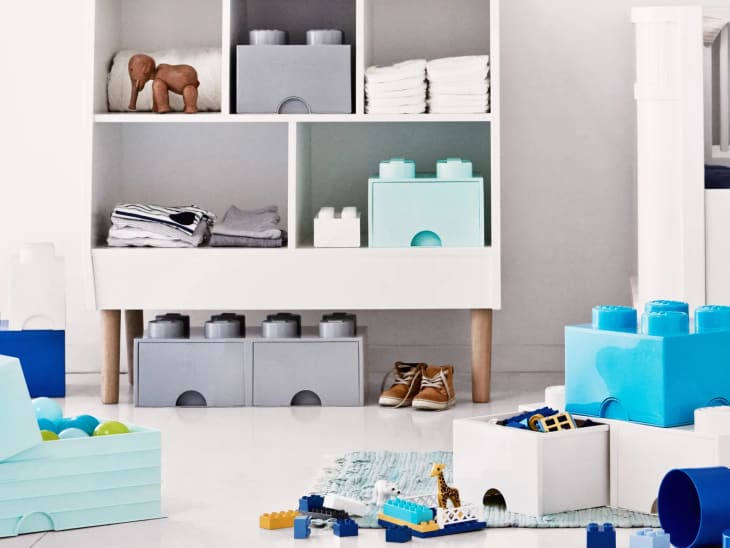 Few things are as universally beloved as LEGO, with people of all ages understandably enchanted by the iconic toy bricks. Some TikTokers are so into the colorful Danish blocks that they're turning storage shelves shaped like large LEGO bricks into chic coffee tables — and you can make one for your space, too.
Amassing more than 33 million views on TikTok, #legotable details the creative ways users are transforming the LEGO 8-stud Storage Brick Drawers ($45) into vibrant and fun coffee tables. Each stackable storage drawer includes two compartments and is topped with eight oversized LEGO studs, coming in a slew of classic colors, including blue, red, black, yellow, and more. There are additional pastel hues available on Amazon for $50, including bright pink, aqua, and light blue.
After picking out a bevy of bricks in your favorite hues, the fun DIY project is pretty easy. You simply configure your bricks with two or four serving as a base and then four on top, attaching them together in a table shape, as TikToker Trisha Smith demonstrates in her unboxing video.
You can leave the table as is or insert a sheet of Plexiglass or Lexan over the top, as some users are doing, to create a flat surface. Securing it to the drawers with clear gel glue is a solid move to prevent anything on your table from sliding off or becoming unsafe.
TikTok user Bella Johnson even completed the LEGO aesthetic by adding clear jars filled with assorted LEGOs and the LEGO sunflowers on top of the coffee table, proving that there truly is no limit to the level of creativity you can add to this fun and inherently customizable statement furniture piece.