If You Like Ruggable, You're Going to Love Their Sister Brand, Levity
We
independently
select these products—if you buy from one of our links, we may earn a commission. All prices were accurate at the time of publishing.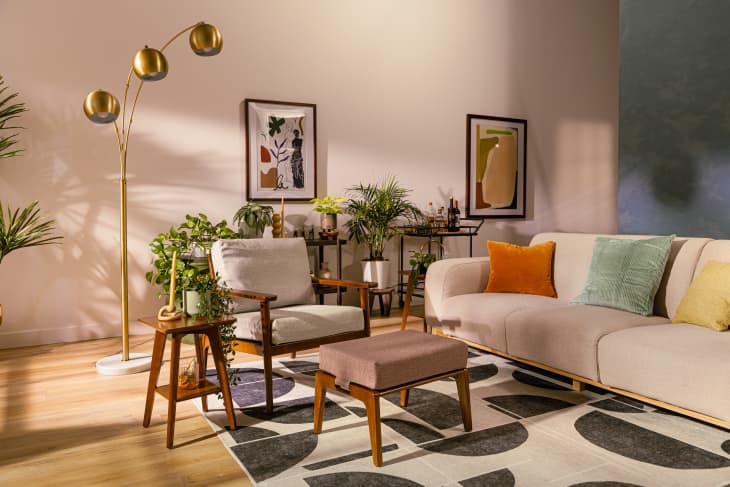 If you grew up with "show" furniture — you know, pieces that were meant to be looked at but never sat on or used unless company was over — the founders of Levity, the new sister furniture brand of Ruggable, feel your pain. Just like the washable, easy-to-care-for rugs that Ruggable sells, Levity's furniture is engineered to stand up to the wear and tear of everyday life so you don't have to be so precious about kicking your feet up on an ottoman or eating and drinking on your sofa. Best of all, their products are equal parts fashion and function, so you don't have to sacrifice your style to get something durable enough to withstand red wine spills or shedding pets.
All of Levity's upholstered pieces (like their dining chairs, ottomans, and lounge chairs) have fully removable covers that you can just throw in the wash when they're getting a little grimy. You can even tumble dry them on low heat, so you don't have to wait for the covers to air out before you start using your furniture again! Their upholstered pieces also come in a ton of fabric options (over 60!), including some fun patterns in case you're in the mood to make a statement in your living or dining room. The best part? If you get sick of the fabric you've chosen or just want to switch things up for a while, you can easily buy a new cover in a different color. That means no more decision fatigue (or at least a little less high stakes decision-making) when you're deciding what fabric to choose because you can easily swap it out later.
Their wooden pieces (like this dining table and this side table, pictured above) have a special, extra-durable coating that stands up to high heat and moisture, so you can easily serve food from oven to table on these surfaces, even if you don't have a trivet handy. Just like the upholstered pieces, thoughtful design tweaks make these pieces less run of the mill and more customizable to your preferences. For example, the side table has a shelf for extra storage, but you can easily take it out if you want something a little more streamlined. The dining table has an extra leaf, so that it can easily extend from six seats to eight for dinner parties. Lastly, the coffee table has a built-in shelf for magazines and remotes, and it's at the perfect height so you can vacuum under it without bumping it or moving it. Levity offers their wooden pieces in two stain options — a walnut or a white oak — so you can choose whichever fits in with the furniture you already have.
Bottom line: Levity's pieces can make living your daily life at home a little easier, especially for people with kids and pets who need a solution for constant messes and the stress of cleaning up. As the brand continues to grow, it's worth taking a look at their furniture offerings. You'll pay a bit of a premium for pieces that stand up over time, but it's often well worth the investment in the long run, since you won't be constantly replacing things that just aren't made well.