This High-Tech, Space-Saving Vacuum Has Me Actually Excited to Clean My House (And It's on Rare Sale!)
Apartment Therapy received compensation for this post, which was written and edited
independently
by our editorial team.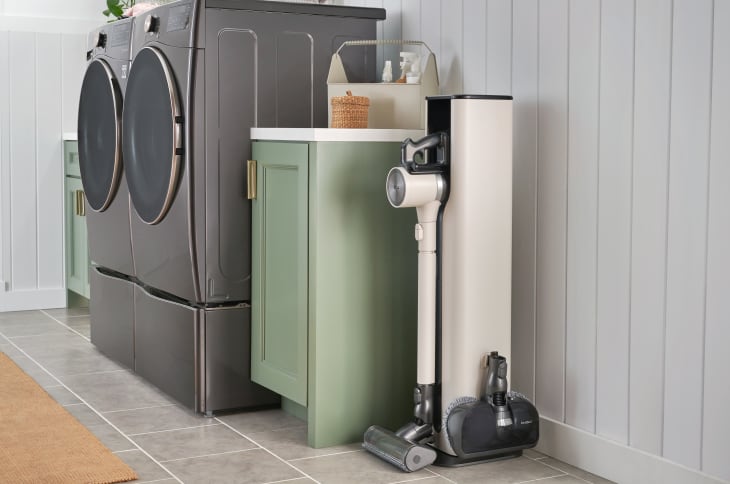 I've always been skeptical of higher-end vacuums — partially because my parents have bought the expensive, trendy models, only to have them break within a matter of months. My mom is convinced we're cursed, and honestly, I believe her. Because of my family's history with vacuums, I've never spent more than $40 on one in case it disappoints me and breaks. But when I got the opportunity to try LG's CordZero All in One Auto-Empty Cordless Stick Vacuum, which ranked on AT's list of best vacuums for pet hair, I couldn't say no.
The LG CordZero boasts a sleek design, powerful suction, and an auto-emptying dock that charges the batteries at the same time (the first stick vac of its kind!). Best of all, it leaves behind zero dust and worry. That's not all either — this vacuum easily converts into a handheld vac, comes with plenty of cleaning tools and transforms into a mop with the included power mop attachment. The vacuum motor has a 10-year warranty and the parts have a 1-year warranty for your peace of mind, too. That all just sounded too good to be true to me, so I had to try it!
I live in an apartment with a slight bug problem and a cute but shedding cat. My cheap stick vacuum couldn't handle Pepper's hair — or food crumbs for that matter, so I unboxed the LG CordZero as soon as it arrived. Although this vacuum looked intimidating with its charging stand, it only took me, a person who once built her IKEA dresser drawers inside out, a matter of minutes to assemble it. I just had to slide a stabilizing platform underneath the charging stand, slot the two pieces of the vacuum together and put in the battery. It was sweat- and stress-free. Upon agreeing to try this, I was a little afraid it was going to take up too much room in my small-space apartment, but I was able to slide it right in next to my desk. It's only 10.1″ wide and 11.7″ deep, making it easy to put in a corner (or even a large closet). The beige is actually my exact wall color so it blends in perfectly with my decor.
I plugged in the charging stand and let the vacuum charge for about an hour before testing it. When I lifted the CordZero out of the charger, I was surprised at how lightweight it was. Weighing in at 5.5 lbs., it only felt a little heavier than the stick vacuums I had used in the past. I turned it on "normal" mode to test the suction and noticed the vac, which makes only 84dB of noise, was much quieter than other versions I had used — the cat did not run scampering per usual but was curious enough to approach what was removing her fur from surfaces.
This LG model easily slides underneath my couch and coffee table without banging up against anything. It had no problem tackling the tile and wood floor in my apartment either. After I was done vacuuming, I put the vacuum on top of a blanketed ottoman that the cat usually sleeps on and tried vacuuming it. Months of fur build-up disappeared in two swipes with this vacuum. It was basically magic.
The CordZero has Kompressor technology, which compacts all of the dust and debris that you're sucking up from surfaces. I was appalled by how much had been collected — it seemed like my floors were finally clean for the first time in months. Sometimes after vacuuming, my roommate and I will feel bits of debris on the floor, but that was not the case with this high-tech vacuum. The floors were spotless, and if I didn't believe it, the LG CordZero has an app that tells you about the cleanliness of your floors and gives you a report on how your vac is running.
I put the vacuum back in the charger and within seconds it began auto-emptying into the concealed trash bin. The emptying feature is louder than the actual vacuuming and lasted for about 30 seconds, but the specs say that it can last up to 45 seconds. The canister and the head of the vac were cleaned out entirely — I had noticed some debris stuck in the head, but that disappeared. I keep the stand set to auto-empty, but you can turn that feature off. After vacuuming, I gave the mop a whirl. The spinning microfiber pads were able to get out stubborn stains and make mopping a quick task (and less of a chore), much like the vacuuming.
Because the CordZero has several different modes (Normal, Power and Turbo), the battery charge time can vary. In stick mode, here are the run-times: Normal (80 minutes), Power (40 minutes) and Turbo (12 minutes). When it's transformed into a handheld vacuum, it lasts: Normal (120 minutes), Power (60 minutes) and Turbo (14 minutes). If you keep the stand plugged in (it has an auto-shut off after the vacuum is charged), you won't ever come home to a dead vacuum.
Although this vacuum may be pricey, it comes with all you could possibly ever want. You get a Crevice Tool, a Power Mini Nozzle, a Combination tool, and an interchangeable mop head with microfiber cleaning cloths. The tools can be nestled into the stand, so they don't take up any space or become eyesores. The mop head can sit on a latch on the side of the stand, though I personally keep the mop head underneath a cabinet with other cleaning supplies.
Overall, I was surprisingly impressed by this vacuum. I expected it to not live up to the expectations (or price tag) after hearing of friends' $500 vacuums not fitting the bill. Cleaning is my most dreaded activity, but the LG CordZero makes it as stress-free as possible. And because it tackles every spec of debris, I feel that it's actually making my floors spotless whereas before I was just pushing the dirt and fur around. I agree with AT's assessment that this vacuum is the best investment for pet hair.
Right now, the vacuum is on rare sale. You can grab it for $150 off (that's huge!) — plus, you'll get another 5 percent off with our exclusive code APR5. This deal only lasts until April 16, so don't miss out.