The Reason LGBTQ+ Buyers Are Still Facing Discrimination in the Housing Market
We independently select these products—if you buy from one of our links, we may earn a commission. All prices were accurate at the time of publishing.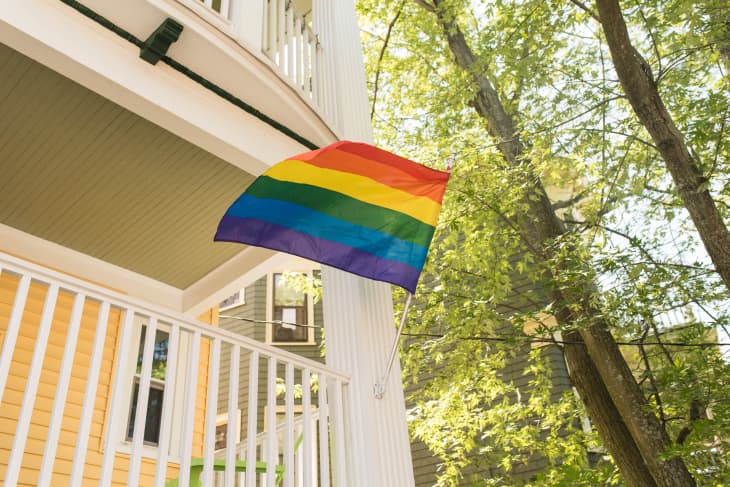 When Abbie Wise and Steph Alexander bought their first home in Tukwila, Washington, in September 2021, they didn't know what to expect. From the outside, the process seemed opaque and tedious; luckily, they worked with a real estate agent who was also a friend and ex-co-worker, and one whose agency just so happened to specialize in helping first-time home buyers navigate the market. 
Follow Topics for more like this
Follow for more stories like this
"He is a friend, but he's also a gay man and bought a house with his partner," Wise says. "So I felt really comfortable asking him any questions, or saying anything, and part of that was because we were old co-workers but part of that was definitely because he was also gay."
That trifecta — co-worker, friend, fellow queer person — meant that for Wise and Alexander, the homebuying process was totally free of discrimination. But not all prospective homebuyers have the same experience. According to an annual report by the LGBTQ+ Real Estate Alliance, "significant discrimination remains," and only 25.9 percent of respondents believe that discrimination against LGBTQ+ homebuyers has actually decreased. 
"Discrimination" can mean anything from the unconscious bias of a real estate agent to a seller blatantly refusing to sell their home because of the prospective buyer's LGBTQ+ identity. In other words, as in many other industries, prejudice runs the gamut — even when it is against the law (it's been officially illegal since a Supreme Court ruling and subsequent Executive Order in 2020 and 2021, respectively). Dr. Lee Davenport, a strategic real estate advisor at Real Estate Bees who specializes in diversity, equity, and inclusion, or DEI, says that though fair housing legislation is helpful, agents must do more.
"Fair housing still requires a concerted, collective effort despite being in our legal lexicon," Davenport says. "Despite how often we hear the phrase, the actual application of 'fair housing' is not yet so part of our culture that it is intuitive — it is not like breathing. In order to work toward a more equitable experience for all, we real estate pros have to be willing to proactively confront unfair housing."
Apart from getting educated about federal, state, and local anti-discrimination legislation, real estate agents must also check their own conscious and unconscious biases; according to the report, 20.7 percent of those surveyed "identified ​​real estate agents as the leading culprit in how housing discrimination occurs against the LGBTQ+ real estate home buyer." Often, it's simply a case of asking questions sans judgment, says Juan Luis Sanchez, who is president of Century 21 Bear Facts Realty in Denver, Colorado.
"Any agent should get to know their client and find out what their needs are, but I think sometimes agents who haven't worked with the community are embarrassed to ask certain questions, so they just make assumptions instead," he says. "And I think it's the same way for the community. They might be proud and stuff, but they still are nervous about telling Realtors who aren't part of the community that, you know, they're LGBTQ, because they are still afraid that they'll be pigeonholed." 
Sanchez is gay, Hispanic, and Native American, and started Bear Facts Realty in 2020 to cater to the needs of clients who were being underserved by traditional real estate companies. His office is one where (almost) anything goes — green hair; head-to-toe tattoos; couples looking for a closet fit for a drag queen or a home near the leather community. "I think that's what has led to our success, is that people can come into our office and feel comfortable being whoever they are. They know that there's no judgment."
The LGBTQ+ Real Estate Alliance report comes at a time when an historic number of anti-LGBTQ bills are being signed into law across the country. And though 72 percent of respondents do feel that their local industry has placed an increased emphasis on DEI in the last three years, it's clear that there's more work to be done. 
Gen Z's increased willingness to identify as LGBTQ+ (20.8 percent compared to 7.1 percent of adults nationwide), coupled with a rise in LGBTQ+ homeownership since the pass of marriage equality in 2015, means that the number of queer people navigating the real estate market — whether renting or buying — is only going to increase. If agents hope to serve this growing cohort of clients well, says Sanchez, it's up to them to meet them where they're at — however they identify.