This $11 Amazon Find Helps Prevent One of the Most Irritating Kitchen Messes from Ever Happening Again
We independently select these products—if you buy from one of our links, we may earn a commission. All prices were accurate at the time of publishing.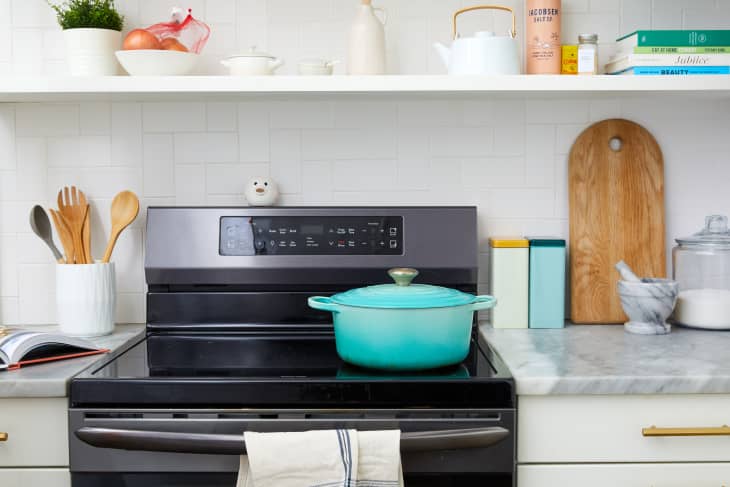 If there's one thing that can put a damper on your day, it's a kitchen mess. From unfortunate spills in the fridge to stubborn stains on your favorite cookware, there's just something about a mess in your cookspace that bugs like no other. But perhaps the most irritating one of them all has to be dropping food between the gap of your countertop and stove. An area I affectionately like to call "the abyss of forgotten food," it may not be the the most in-your-face mess, but cleaning it is definitely one of the most frustrating tasks around (I don't know about you, but I'm not a fan of having to move my stove to clean just because I got a little crazy with the pasta sauce.) Thankfully, it seems that I'm not the only one, because there's now a product that can prevent this mess from ever happening again: the Linda's Essentials Silicone Stove Gap Covers.
Follow Topics for more like this
Follow for more stories like this
Made from food-grade silicone for enhanced heat resistance, these gap covers are the kitchen cleaning accessory you never knew you needed. Installing them is a breeze: designed to fit over all stovetop styles, simply trim the cover to fit the length of your area with a pair of scissors, set in place, and let the non-slip, flexible silicone adapt to your stove and counter space. That's it. Dishwasher-safe for easy maintenance, they also feature a smudge and dust-resistant, matte-black design making them a seamlessly stylish addition to your kitchen.
Customers are loving these gaps, with one reviewer writing, "The crack between my counter and stove is just big enough to let crumbs drop in but not big enough that they fall to the bottom so you can always see ask the grossness next to the stove and short of pulling it out, it's tough to clean. These helped tremendously in keeping the counters clean and looking nice."
Ready to say goodbye to stubborn gunk and debris trapped in the gap between your stove and countertop for good? A two-pack of these silicone gap covers comes in at just $11, making this a kitchen cleaning find you can't afford to pass up. Now if you'll excuse me, I've got an order to place — it's spring cleaning season!