Is Remote Work Here to Stay? LinkedIn Reveals Their Prediction
We
independently
select these products—if you buy from one of our links, we may earn a commission. All prices were accurate at the time of publishing.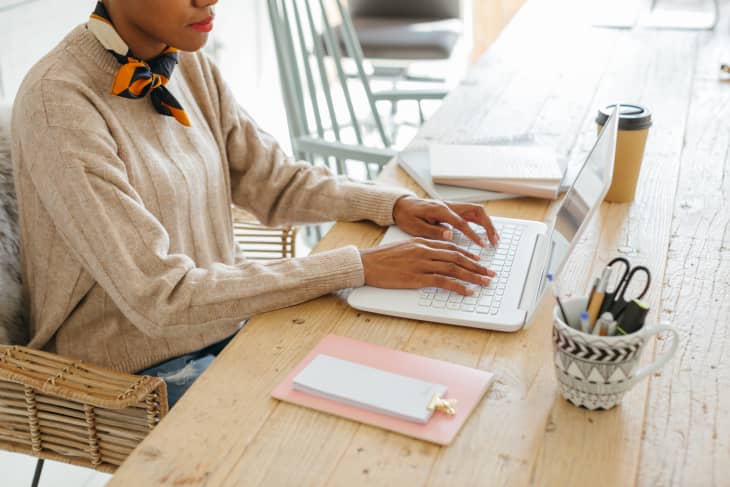 Office dwellers have adapted to being full-time homebody employees, and many have maintained efficiency and productivity on the job, despite the drastic change in environment. Workers have been put to the test with what they and their companies are virtually capable of, and 2020 has proved that remote work is doable for many. But is it here to stay beyond the pandemic? The experts over at LinkedIn say absolutely.
Last week, LinkedIn held a virtual event where their experts weighed in on the current workforce situation, honing in on unemployment statistics and upcoming tools the career platform is releasing. When asked if they've seen a decrease in remote postings since the peak of the pandemic and if remote work is part of the workforce's future, there was no doubt that statistics prove that remote work isn't going anywhere.
"We do feel that remote work is here to stay. We've seen trends all over the board. It's something that's changing the landscape of the entire professional workforce in a lot of ways," Blake Barnes, Vice President of Product, said during the webinar. "People are able to tap into new opportunities and new jobs that they wouldn't otherwise have access to. Companies are able to hire different sorts of talent. This is something we think is going to be the fabric of the workforce moving forward."
And recent statistics prove this to be true as well. LinkedIn's Chief Economist Karin Kimbrough reported that the platform has seen a 400 percent increase in remote job postings and over a 200 percent increase in job seekers since March, and both numbers are expected to continue to climb.
Even before the pandemic, there were known benefits to WFH life, like saving a decent amount of money and getting back commuting time. And now that we've gotten a taste of this lifestyle, it might be hard to return back to normal. But according to LinkedIn's prediction, we might not ever have to.