4 Things an Outdoorsy Real Estate Expert Wants You to Know About Living in the Mountains
We independently select these products—if you buy from one of our links, we may earn a commission. All prices were accurate at the time of publishing.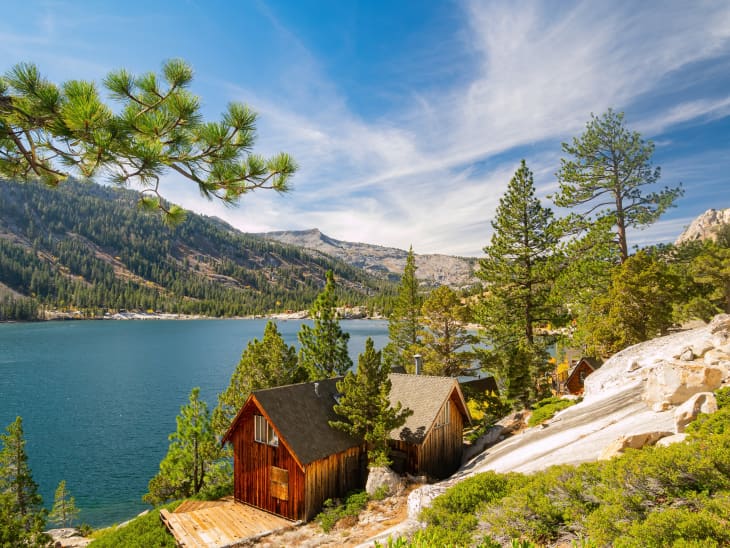 With cities becoming more crowded and polluted by the minute, living in the mountains — with grass beneath your feet rather than gum-covered concrete — seems like a charmed life. But is mountain life all it's cracked up to be?
Follow Topics for more like this
Follow for more stories like this
Chris Fajkos is a real estate agent specializing in luxury real estate in Truckee-Tahoe, a mountain community in California. He also lives in Truckee-Tahoe full-time. 
"With anything in life, there are pros and cons," says Fajkos. "Living in the mountains means your environment is clean, safe, and quiet, and you're surrounded with natural beauty. You also have access to outdoor activities like skiing, snowmobiling, and ice skating in the winter, and hiking, camping, biking, and boating in the summer. However, there are some downsides."
The cost of living can be higher.
Although mountain life can offer a coveted respite from big city life, it comes with a price tag.
"Transportation costs can be a little bit higher because mountain towns tend to be in these remote areas. If you were down in Sacramento, gas is going to be quite a bit cheaper than coming up to Tahoe," says Fajkos. "There are logistics involved in bringing those types of commodities up. And things like fuel, groceries, even going out to eat can be more pricey because mountain towns, at least in my market, are tourist-based economies."
Additionally, mountain towns tend to get snowier, colder winters. This can mean higher utility costs come wintertime. You might also need to budget for a snow removal contract — or, at the very least, invest in a powerful snowblower, which can run a couple of thousand dollars at least, adds Fajkos.
Extreme weather might mean more home maintenance.
"Living in the mountains, you get some pretty rough weather. I think some people don't really anticipate how rough it can get. We don't get big winters every year, but when we do, it can shut down the entire town," says Fajkos. "Last December, we got 18 feet of snow in a matter of a few days, so it shut down the town. Gas stations started getting low and I think a couple ran out, and shelves in grocery stores got a little low."
Although Fajkos admits that this was an extreme instance, the weather does take a toll on properties. Snow can accumulate on the roof and build up on satellite dishes, affecting service. Power outages and slow connectivity can last anywhere from a few hours to a few days during a bad storm. Unobstructed sun exposure can cause stains and paints to lift from wood siding. And moisture from melting snow can leach into your driveway, so regular sealcoating is a must.
"These homes, especially if they're older, you can only imagine how many big winters they've gone through," he says. "And then we have extreme temperature swings, too. You can go from five degrees to 100 degrees, so it's a very harsh environment for not only people to live in but homes to exist in."
High wildfire risk can make it difficult to get insured.
Wildfires pose an imminent and ongoing risk to mountain communities, with many mountain towns located in high fire hazard severity zones.
"When you live in a mountain town, wildfires are something you think about and have to be prepared for. You have to be prepared to leave your house at a moment's notice," says Fajkos. "Also, the fires have impacted peoples' ability to get fire insurance. At least California has the The California FAIR Plan, but there aren't a lot of carriers who provide coverage in mountain areas anymore."
Insured or not, homeowners have to take measures into their own hands to mitigate fire risk as much as possible, he says.
"People have to stay on top of defensible space. We have very good defensible space regulations in Truckee where we do our best to keep things neat and clean. But last year was a bad season. I think [wildfires are] something mountain towns are wrestling with a lot."
The pace of life is slower and it can take longer to get things done.
Where Fajkos lives, in Truckee-Tahoe, it's overwhelmingly a second-home market, and people come to the area to enjoy a slower pace of life. This means it can take longer to get things repaired and serviced.
"We call it 'Tahoe-time.' Mountain towns tend to be more relaxed. Some people have come to the mountains to not work, to enjoy the outdoors, so people need to be aware that just getting things done can take a while," he says. "Either you like it and you sign up for it, or it's too much. Especially for the older demographic."