"Living Journaling" Is the New Scrapbooking — But Way Easier
We independently select these products—if you buy from one of our links, we may earn a commission. All prices were accurate at the time of publishing.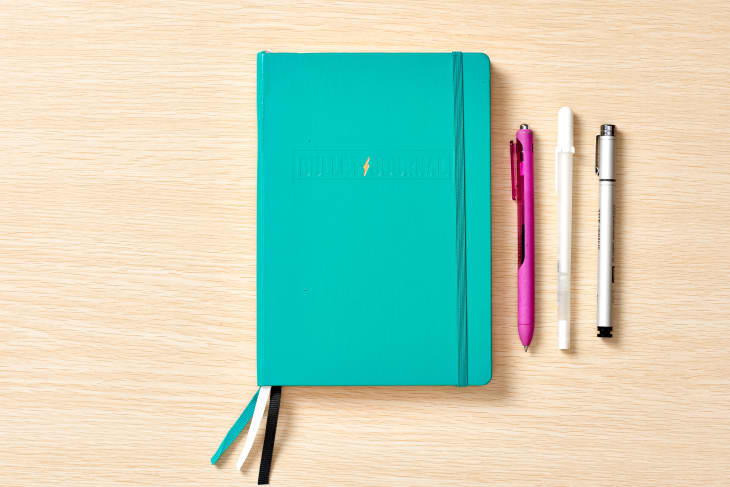 Art journaling is a perfect hobby for those who like to turn off the noise from the outside world and channel their creativity into a safe space for their eyes only. But for some, art journaling can feel daunting. Where do you start? What materials should you buy? How do you gather inspiration?
Follow Topics for more like this
Follow for more stories like this
If you're one of those people who can't seem to get into the groove of art journaling no matter how hard you try, you may want to give "living journaling" a try, instead.
A video showing the process of living journaling was posted by TikTok user Ariel from @arieljournals and recently went viral. Ariel explains their process and why living journaling has become so meaningful.
"I've been living journaling for over four years," Ariel said in the video. "[Living journaling] is really just collecting these random things I come across during the week like stickers, packaging, fortunes, and then I put it all together in a spread. I truly think there is no moment too small to try to capture in our lives. Even if at the end of everything all I have are some wrappers and stickers in a journal, it means that I was here and I experienced life and I'm grateful. I honestly recommend living journaling to absolutely anyone!"
"Gotta try this," one person commented. "It seems like a version of journaling my ADHD brain can handle." Another wrote, "Wait this is actually smart because sometimes I hold onto the smallest things because of the slightest emotional bond I created with it."
Living journaling (sometimes called "junk journaling" or, as one commenter called it, "crapbooking") is also perfect for those who want to get rid of more things or clean out a giant memory box. Just keep a small cutout of that magazine or the logo from a shopping bag for your journal and get rid of the bulk. 
And when a journal is complete, you can flip back and memories will still be triggered by that small piece of something rather than the whole. Plus, you don't need a lot of artistic skill to create a beautiful living journal.
Your bits and bobs will finally have a home, and you'll have an outlet to get creative and store your memories for safe keeping.