Our Newest Series "Liz$plaining" Is Personal Finance for Real People
We independently select these products—if you buy from one of our links, we may earn a commission. All prices were accurate at the time of publishing.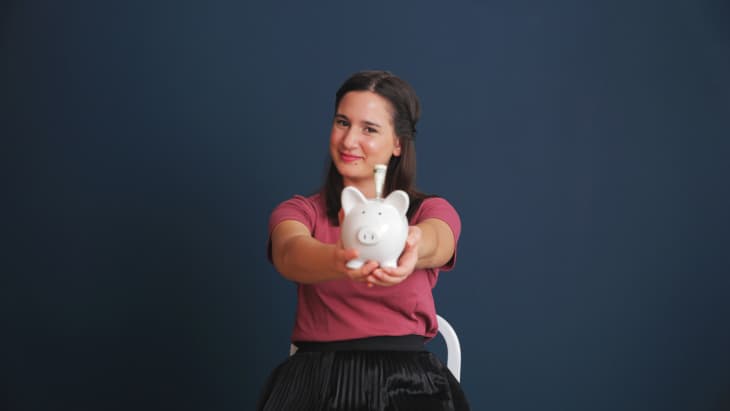 Today, we're launching a new series Liz$plaining, hosted by me, Liz Steelman (Apartment Therapy's real estate editor), where I break down financial topics that are relevant to AT readers, old and new. Every Tuesday for the next month, we'll post a new episode here and on YouTube. Today (July 2), our first episode is How to Raise your Credit Score in 30 Days. Watch the full episode below! (And to make sure you don't miss out on new episodes, subscribe on YouTube!)
But wait up, Liz! What do credit scores and personal finance have to do with creating a beautiful and happy home? An easy answer: Over the past year as AT's real estate editor, I've learned that real estate is almost synonymous with personal finance. From mortgages to simply furnishing your tiny studio, you have to find a way to pay for it, which means getting your money ducks in a row.
And while you may be thinking, "Hmm, why should I get financial advice from a home and decor site?" Allow me to explain:
While researching editing, I've found that, often, financial advice comes from people who don't look or sound like me, my friends, or our readers. Instead of meeting people on their level, personal finance discussions and advice always seems to have an underlying connotation of perfection. There's the expectation that you should always be acting as the best version of yourself: To save more, to live on less, to maximize your resources, and to always be one step ahead. It doesn't seem that there's much space to, you know, be a person who isn't always as disciplined as they could be. 
Though we love to aspire here at Apartment Therapy, we also love meeting your on your level. If there's one blessing that the Millennial financial hardship culture has given us, it's that there's more space in the discussion to have a more "wellness"-oriented approach, just like how we're seeing the conversation about diets and health change. Many of us don't have the time, resources, or background to make our bank accounts and credit scores Superhero fit. "Healthy" finances don't have to mean perfect, but they do mean taking the time to understand the systems and processes that affect our money and savings, now and in the future. And it goes without saying that, just like with your health, you should always talk to your primary doctor (in this case, a certified financial expert) to see if a change is right for you.
As I said before, I'm definitely not a financial expert and I don't know all the answers, but what I do know is how to meet people on their level. Over the years, I've found myself becoming the go-to source for all things confusing and adult to my friends and coworkers. I've had conversations about what health care plan was best, how to set up a 401k, what credit cards seem worth it, and when it makes sense to upgrade from your high school savings account. It's not that I necessarily knew any of these things myself. Early on, I just figured out a way to read this opaque jargon and "translate" it in a way that makes sense (and I established a Rolodex of patient experts who were willing to break it down enough for me). And me being me, a lot of the time that means making weird analogies and jokes to make it a bit more "fun." Finance may be boring, but I surely am not(!)
I hope you enjoy the series! It's been a labor of love from everyone on the site. Special thanks to Shirlyn "Hippo" Wong, who produced and edited the video; Dan de Jesus who helped shoot the episodes; Anne Ebeling, AT's executive video producer, for being there every step of the way; and Laura Schocker, our editor-in-chief, for all her support.
Tell me what you think in the comments below and if there are any topics you'd like me to cover in the future!
Liz Steelman
Real Estate Editor, Apartment Therapy
More great Real Estate reads: