A Dramatic, Maximalist London Flat Is Dark, Eclectic, and Cool
We
independently
select these products—if you buy from one of our links, we may earn a commission. All prices were accurate at the time of publishing.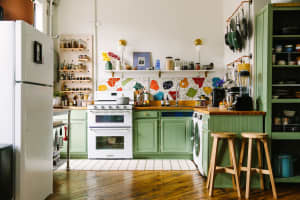 Can't-Miss House Tours Straight to Your Inbox
Keep up with our latest house tours each weekday with our House Tour of the Day newsletter
Name: Catherine Ashton
Location: Northwest London, England
Size: 832 square feet
Years lived in: 14 years, owned
Though Catherine and her partner Ali have owned this London flat for 14 years, it wasn't until about two years ago that the space made a dramatic transformation. It was then that Catherine painted the generic white walls a sensational black from floor to ceiling. This simple but dramatic choice has been a gorgeous experiment in interior design!
One of the features that Catherine—who is behind the popular Instagram account bo__decor—values the most about the space and the development is the views of green that fill every window. The development sits on acres of mature trees, a rarity in London. Though she now lives full time with Ali in a house nearby, the flat has been a place for Catherine to express herself creatively. The apartment is a place for her to spend some alone time, and to experiment with different design projects. She has filled all 832 square feet with her finds from antique fairs and shops that she admires, and admits to her bias towards antiques because of the history in each piece. "Knowing that they have been previously owned lets you imagine who owned them and what home they belonged in," Catherine shared. In bringing each piece home, Catherine has done an amazing job in adding to their history!
Apartment Therapy Survey:
My Style: Dark, Eclectic and Cool.
Inspiration: Because I am not permanently living at my flat I never did too much to the interior, white walls, minimal decor, that sort of thing. About two years ago I needed more storage so I bought a blanket box painted with Farrow and Ball paint of your choice. As I was Googling Farrow and Ball paint I started discovering all these beautiful interiors online, Instagram, Pinterest, etc. Then I came across a dark hallway which immediately I liked and thought "I could try that."
As soon as I painted my hallway dark I loved the coziness it gave. It didn't make the room look smaller contrary to what people say and I instantly fell in love with it. As I started googling more pictures of dark interiors I came across Abigail Ahern and was in awe of her dark cozy cocooning home. She paints everything dark including the ceilings. At first I was a bit apprehensive so I tried one room and immediately loved it and gradually I became more confident and started doing all the rooms dark.
Also whilst Googling I saw pictures of gallery walls which I thought was so cool. Art was my favorite subject at school. I was quite shy as a child so I used to hide away for hours drawing still-life subjects. I already had a few pieces of art so I slowly started collecting more and built up a collection and now I have three gallery walls. Am hoping to do a fourth if I can find a spare wall.
Favorite Element: I have a few, but mainly I love the layout of the flat and of course the dark walls. I have a window seat in the main bedroom, which I adore. It's great for chilling with a cup of tea, especially when the sun's shining in. I am in a very green location near Hampstead Heath surrounded by lots of nature and I am lucky to have views of trees out of every window.
Biggest Challenge: I was going from a pale interior to dark. I wanted to do this without spending a fortune, so I did a lot of research on how to decorate. I am a perfectionist and needed to learn from professionals so I could do it myself (thank goodness for the internet).
I had the cream carpets changed to black floorboards. I have limestone tiles on the floor in half of the flat, which I will paint later on this year. The bathroom is the smallest room but was the most time consuming. I have limestone tiles on the walls so again I did lots of research to know if it was possible to paint them and luckily it was using two special primers then using your normal paint.
In the kitchen and bathroom I have dark blue mosaic tiles with white grout. I thought: "How can I change the look without changing the tiles?" so I used a special grout paint and painted the white grout black, which has totally transformed them and now looks like I have brand new tiles. Again it was very time consuming and must have taken me about 30 hours in total, but definitely worth it. Also the ceilings are not very high so having chandeliers was a challenge. I tried where possible to hang them over furniture, like in the bedroom above the beds and the living room above the tables.
What Friends Say: They love it and say I should be doing interior design as a living but I love doing what I do as a hobby.
Biggest Embarrassment: I painted all the flat in pale colors with Farrow and Ball paint then as soon as I finished I discovered the dark side of decorating and painted it all again. A very expensive time-consuming decision but glad I did it.
Proudest DIY: Painted the whole flat twice over by myself in two years and having the guts to go completely dark, which is the best decision have ever made.
Biggest Indulgence: Collecting all the art for my gallery walls and all the chandeliers I bought for each room, which luckily Ali, my partner, installed for me.
Best Advice: Don't be scared to try things out and try not to listen to other people. Go with your gut and buy only what you love.
Dream Sources: Apart from enjoying sourcing items at antique fairs, I love shopping at Abigail Ahern for my faux plants, cool accessories, and furniture. Trouva for their throws. And for my art Society6 has an excellent choice of prints and amazing quality.
PAINT & COLORS
I only use Farrow and Ball paint.
Downpipe in hallway.
Off-Black in kitchen and bedroom.
Inchyra Blue in living room.
Stiffkey Blue in bathroom.
ENTRY
Bench — Bespoke made from Puji
Vase and Fern — Abigail Ahern
Art From Many Places, Including — Society6, antique fairs, Nickie Kelly, Abigail Ahern
Persian Rug — A gift from Iran
Bonjour Print — Red Brick Mill
LIVING ROOM
Faux Plants and Flowers — Abigail Ahern
Coffee Table — Abigail Ahern
Sofa — Collins & Hayes
Star Cushion — Sarah Bailey
TV Cabinet — Ardingley Antiques Fair
Zebra Rug — Jonathan Adler
Rug Under Coffee Table — Ardingley Antiques Fair
Dining Table — IKEA
Chandeliers — Angelos Lighting
Large Print on Wood of Lady by Amedeo Modigliani — art.co.uk
Gray Throw — Trouva
Glass table lamp — House Doctor
DINING ROOM
First Class Waiting Room Sign — Rocket St George
Table — IKEA
Rug — Etsy
Faux Plants — Abigail Ahern
Eames-Inspired Chairs — Icon Inspired
Mirror — eBay
KITCHEN:
Kitchen Cupboards — Ikea painted with Farrow & Ball pitch black
Rug — Rocket St George
Calendar — Stendig
Art Above Table — Nickie Kelly
Table — Trent Furniture
Tolix Chairs — Peppermill Interiors
Chopping Boards — Forge Creative
MASTER BEDROOM
Black and White Throw — We Are Trouva
White Throw with Large Pom Poms — Morocco
Bedside Table — Ardingley Antiques Fair
Bedside Lamp — Lighting Company
Macrame Above Bed — myoffthewallshop Etsy
Jewelry Box — Present from China
Bed — IKEA painted with Farrow & Ball paint
Faux Ficus Tree — Inspirations Wholesale
Cow Skull — Nickie Kelly
BATHROOM
Art — Abigail Ahern
Paint — Zinsser Gardz and Zinsser Bullseye 1•2•3 then Farrow and Ball paint.