This Hand Sanitizer is So Pretty, You'll Want to Display it As Decor
We independently select these products—if you buy from one of our links, we may earn a commission. All prices were accurate at the time of publishing.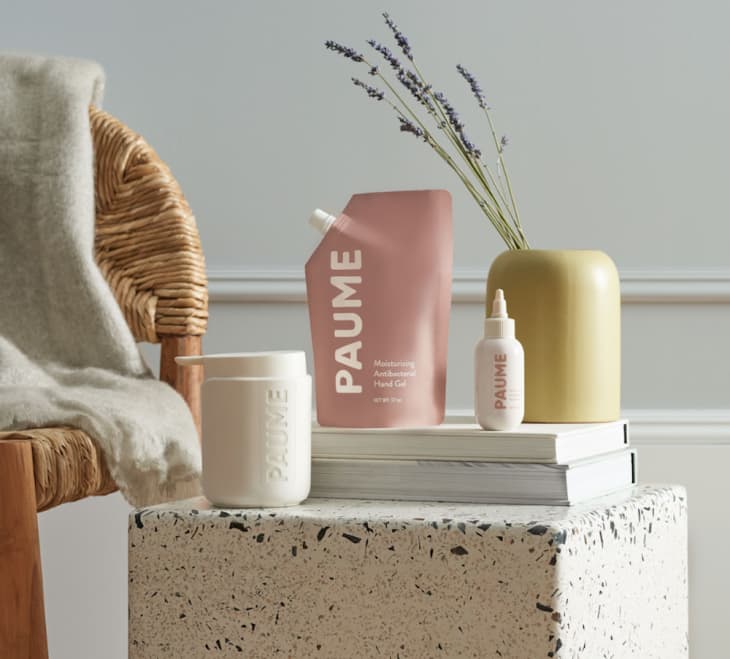 Move over, Purell. PAUME, a sanitizing skin care brand, has infused luxury into the antibacterial market with its hand sanitizer — and the packaging is so stylish, you'll want to display it as decor. Available in kits and travel sizes that range between $14 and $68, PAUME's sanitizer is formulated to not only eliminate harmful bacteria, but also moisturize the skin with plant-based emollients. The product will delight the senses, too: the sanitizer is made with a blend of essential oils, including lavender, rosemary, warm cedarwood, and refreshing citrus, to relax the senses. 
PAUME has three central sanitizer kits: The Essentials, $68,  a combination of one pump, one 17 oz refill bag, and one 3 oz travel bottle; The In Home, $56, a combination of one pump and one 17 oz refill bag; and The Traveler, $42, a combination of the 17 oz refill bag and one 3 oz travel bottle. The Refill Bag, $30+, and The Travel Bottle, $14+, are also available for separate purchase. (The refill bag contains enough sanitizer to refill the pump twice and the miniature travel bottle five times.)
PAUME also prides itself on its sustainable and reusable packaging. The sleek white pump is made with antimicrobial plastic, while the blush pink refillable pouch produces 60 percent less plastic waste than a bottle. The reusable travel bottle, on the other hand, is made from 100 percent previously recycled plastic.
"The idea for PAUME first came to me over a year ago, when my husband and I brought our newborn daughter home from the hospital," PAUME founder Amy Welsman writes. "Being a new parent really heightened my awareness of germs." Welsman soon realized that "most hand sanitizers had a few things in common: they were harsh on the skin, they smelled terrible, and they were packaged in unappealing, disposable plastics" — and thus set out to formulate her own.
"Now more than ever, we need products that are good for our bodies and mindful of the planet," Welsman continues. "We need to protect our hands, so we can remain in touch with our loved ones and our communities."