We Tried the $89 Carbon Steel Skillet That Keeps Selling Out—and the Hype Is Real
We independently select these products—if you buy from one of our links, we may earn a commission. All prices were accurate at the time of publishing.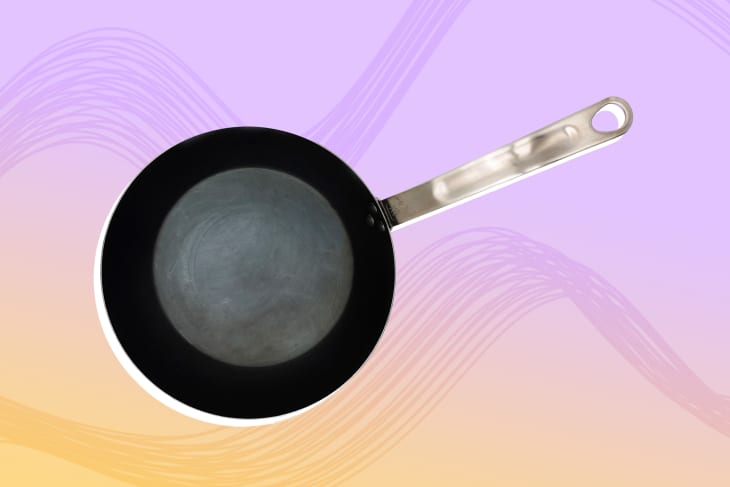 Follow Topics for more like this
Follow for more stories like this
I finally got my hands on one and I spent the last week cooking every meal in it. Here's why I think you should hurry up and buy this pan yourself.
Think of carbon steel as a sturdier, lighter cast iron. It holds heat well (up to 1,200 degrees Fahrenheit!) and can be used on the stovetop, in the oven, or on the grill. Like cast iron, carbon steel pans require a little bit of special care — like seasoning before its first use and making sure it is good and dry after each use. In return you get an agile pan that can outperform your standard skillet in many ways.
To make the seasoning super-simple, Made In's Blue Carbon Steel pans come with care instructions and the brand's proprietary pan wax (beeswax and oil that help to season the pan). After washing the new pan, roast it with the wax for an hour, let it cool completely, and the pan will be ready to go. You can use the rest of the wax for regular upkeep.
What I Loved About Made In's Carbon Steel Frying Pan
The high sides of the 10-inch skillet make it an excellent pan for stovetop frying without making a mess. For example, a couple of Spanish fried eggs usually splatters butter and oil all over my stovetop, but this pan kept things tidy. Sautéing vegetables in the Made In Blue Carbon Steel Skillet was a particular dream — the even heat and slopped sides helped to quickly flip green beans and broccoli on two different evenings.
But the thing I really loved was being able to brown a few chicken thighs on the stovetop before slipping them into the oven to roast. Both steps seemed to go quicker than with my regular cast iron pan.
If you want a skillet that will make you feel like a pro chef without the price tag of stainless steel and without the hefty weight of cast iron, this carbon steel skillet is for you. I'm actually kind of shocked that it costs less than $100 (way less, actually; $89 before shipping). My advice: Hurry and buy this pan now … before it sells out again.