Maggie's Colorful & Cute Rental Home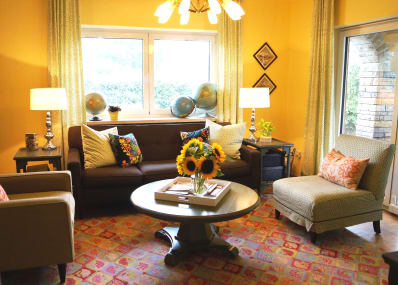 (Image credit: Maggie Overby)
Name: Maggie
Location: Heilsbronn, Germany
When my husband made the Army his career thirteen years ago I knew there would be moves involved but I didn't expect nine moves in fourteen years. Although all this moving can be hard, I have to say, I love having a new house every few years to put my stamp on. I have a degree in architecture and a husband who lets me do as please with the house.
(Image credit: Maggie Overby)
I love the hunt for the new house, the planning and shopping for all the new things we will need and bringing it all together. This last move was different though, we were moving overseas to Germany and I had no idea what to expect. I knew the house would be smaller but what should I bring?
(Image credit: Maggie Overby)
In previous moves I had gone ahead to find where we would be living before we even began the move. This time we were jumping in completely unaware of what laid ahead. I packed using William Morris' maxim, "Have nothing in your house you do not know to be useful or believe to be beautiful."
(Image credit: Maggie Overby)
When we arrived we looked at only two homes: one horrible and the other perfect! What we ended up with was a 2000 square foot home that was built in the 1960s by our landlord's father. It was pretty plain when we moved in but our landlord has been great about letting us paint and change out fixtures.
(Image credit: Maggie Overby)
We have spent the last year making this rental house as much a home as possible. With lots of color, our useful and beautiful things we brought with us, and lots of German additions we have made this rental a home!
Thanks, Maggie!
• Interested in sharing your home with Apartment Therapy? Contact the editors through our House Tour Submission Form.