A Scandinavian Style Meets California Vibes Beverly Hills Apartment
We
independently
select these products—if you buy from one of our links, we may earn a commission. All prices were accurate at the time of publishing.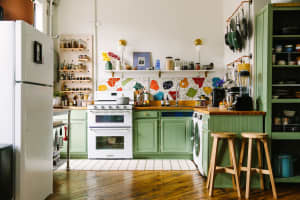 Can't-Miss House Tours Straight to Your Inbox
Keep up with our latest house tours each weekday with our House Tour of the Day newsletter
Name: Maia
Location: Beverly Hills, California
Of all the cool neighborhoods for a single 32 year old to live, Beverly Hills might not strike you as the most obvious. It's especially curious when you consider that I grew up in "the valley" (the San Fernando one) and moving here is the equivalent of someone from Brooklyn moving to the Upper East Side—it's just not something we do.
I was in the market for a one bedroom, but I found myself priced out of a lot of the trendier neighborhoods. And when I discovered this beautiful prewar unit that had such great light it was too good to pass up. It also didn't hurt that it was walking distance to my office, and also to my brother who lives a few blocks away.
I wasn't looking to live in Beverly Hills, but I've developed a certain affinity for the neighborhood and its many beautiful, often eccentric, sometimes overly elaborate, but almost always distinctly personal homes. I guess when you can afford to express your taste, you do. On a purely thematic level this made Beverly Hills a surprising, but liberating, environment to discover my personal style.
I'd say my style is Scandinavian meets Californian. Scandifornian, if you will. When I visited Scandinavia I fell deeply in love with the white-washed minimalist style, incorporation of nature, and reverence for light. As a native of California these are all elements that speak to me, but I also covet things that feel laid back, effortless and warm. I find these two styles blend surprisingly well together: Scandinavian minimalism keeps California bohemian in check, and California style keeps Scandi's a bit wild.
After almost a decade of sharing living space with roommates it was really fun to discover my personal taste. I had minored in history of art and architecture in college and faced with an empty apartment, I suddenly found myself reacquainted with my deep love for design. I started reading books and blogs about lifestyle and interior design. Favorites include Kinfolk Home, Commune: Designed in California, Style by Emily Henderson and blogs by designers Amber Lewis, Sarah Sherman Samuel and Apartment Therapy (of course). An overwhelming conclusion from all of these sources is that your home isn't a vessel for style, but for living, and the objects we collect should be a natural extension of our lifestyle.
My favorite room is probably the living room. It's the room with the most light. The property managers were pretty strict about not replacing any of the light fixtures, so I needed to work with antique gold sconces that have garishly hand-painted green and maroon embellishments. Not exactly Scandifornian. Without any other recourse, I tackled it head on. I created a gallery wall that would incorporate these colors and help them seamlessly blend into the overall aesthetic.
I needed a credenza wide enough to fit between the two sconces and couldn't find anything I liked in my price range, so I took on the floating shelf IKEA hack. I went to a lumberyard and bought the wood to go on top, sanded, stained and attached. With the help of a fantastic (and brawny) handyman, we floated some shelves. Ta da!
I wanted to be sure I was incorporating personal elements, not just store bought ones. I created the insta-art gallery using black washi tape. I used printed pictures from my travels off of my Instagram account. It's fun to pass by the images in the middle of the day and be momentarily taken in by them. The vase is actually a glass vase that I wrapped in wooden contact paper and spray painted white—it's like magic, but not.
I really wanted a live-edge wood coffee table and they are extremely expensive. So I decided to do something I've never done before—I decided to build a table. I sourced a slab of Alligator Juniper wood from Craigslist and began the process of making…something? Cut to: sanding, sanding, sanding, staining, staining, staining, polyurethane! and sanding some more. Then discovering I couldn't find ready-made legs that come anywhere close to matching Alligator Juniper, and I would need to have them custom made. Suddenly I'm driving to a warehouse in south Los Angeles to negotiate the price of custom table legs. I find myself having lengthy discussions with woodworkers about the best way to attach said legs, and finally caving into my own limitations (and patience) and resorting to using metal plates to attach the legs. I am crazy proud of this coffee table.
I love the way my home makes me feel (isn't that the truth of every good space?). It is warm, inviting and comfortable, but it has a little edge—just the way I like it.