March's Small(er) Scale Lovely Life
We
independently
select these products—if you buy from one of our links, we may earn a commission. All prices were accurate at the time of publishing.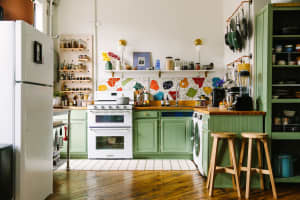 Can't-Miss House Tours Straight to Your Inbox
Keep up with our latest house tours each weekday with our House Tour of the Day newsletter
Name: March
Location: Bethesda, Maryland
Last year I packed up our four kids and maybe 20% of our furniture and we left our big house, and everything in it, to be sold. At the time, it felt like – it was – an enormous loss, although I did everything I could to make it seem like an adventure. We moved to a temporary rental; I caught my breath. I was determined to stay in the same general area, so my kids could have the same friends and go to the same school. But money is tight and Washington, DC is an expensive area, so my options were limited.
In January I looked at yet another rental house, a 1926 Cape that had never been updated or enlarged. It was quirky, even for a rental, and it didn't have features (like a half bath downstairs) that most folks want. At 1,300 sq. ft, it was also really small. But the first thing I noticed after the agent let me in was the lovely light on an overcast day, and the wood floors, and how quiet it was. Instead of the noisy forced-air heat we've all gotten used to, it had the original radiators. I poked around, looked at a couple other places. But I couldn't stop thinking about that absurd little Cape, and the price was right. So I rented it.


We moved in a snowstorm. It snowed most of that month. It would not stop snowing, which made the move just that much more miserable. I wondered if I'd made a terrible mistake. But we rolled our sleeves up and got busy making the sorts of changes renters can make (with the landlord's permission, of course.) We painted the faux brick and the bathroom and the dark kitchen cabinets. I hired an electrician and replaced a few light fixtures. I hit Craigslist for smaller-scale furniture that would fit into our new, smaller-scale life.
And it's absolutely perfect. No, there's not enough closet space, and a bath downstairs would be rather nice, and I wish the basement didn't flood when it rains. But I got an extraordinary garden out of it. I had no idea, but the previous tenant was an expert gardener. I've met neighbors because of that garden, the sort of garden I've always wanted, a wild, weedy riot of perennials that make people stop and smile. We can chat from the front porch.

This house has also taught us what's important (each other) and how much we can live without (a lot). I'm still parting with things. Now, each object meets the challenge: it is beautiful? Is it useful? That's all there's room for.

I'm submitting this because it doesn't strike me as a typical Apartment Therapy abode (in which fewer people live a tidier life.) I like bright colors and patterns, and we're neither modernists nor minimalists. But I think our small house is both lively and calm, and cozy rather than cluttered. After six months the walls are mostly bare, despite the fact that I have a huge collection of artwork (mostly wedged behind the furniture right now). Since the walls are plaster I can't just bang a nail in, and I've come to enjoy those smooth, empty spaces.