I KonMari My Desk Every Day Before Leaving Work—And It Sparks Serious Joy Beyond the Office
We independently select these products—if you buy from one of our links, we may earn a commission. All prices were accurate at the time of publishing.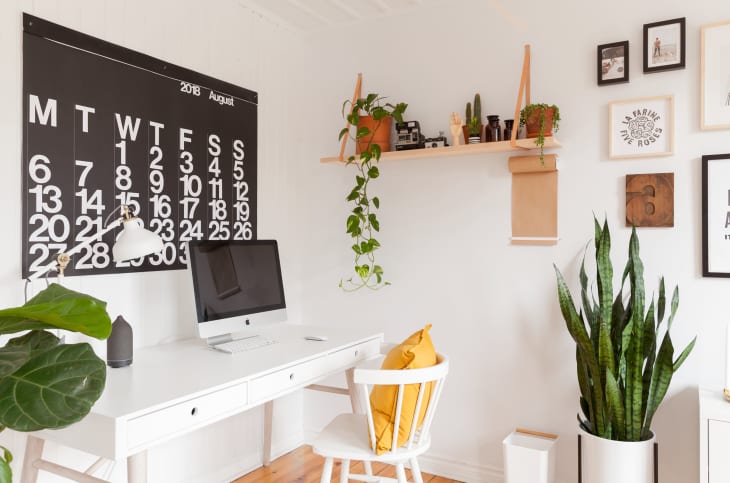 This week, we're celebrating the impact of all things KonMari and the 1-year anniversary of "Tidying Up with Marie Kondo" on Netflix. We hope these stories spark joy for you.
Follow Topics for more like this
Follow for more stories like this
When it comes to her desk setup, Apartment Therapy's Affiliate and Commerce Manager Yasmin Lashley leaves no trace behind. She brings one bag in, unpacks the day's essentials (laptop, headphones, etc.), then tidies up before heading out, resulting in an empty surface that barely has a crumb. She keeps things simple, clean, and easy to control, eliminating any waste that the day accumulated.
While a KonMari practitioner might think this decluttering habit seems inspired by Marie Kondo's methodology, Lashley has never read "The Life-Changing Magic of Tidying Up" or watched "Tidying Up with Marie Kondo." Her actions stem from understanding intuitively that objects on her desk don't motivate but distract her—a thought that Kondo gets at in her new book "Joy at Work," publishing in April 2020.
Kondo's new book helps readers use the KonMari Method to tackle disorganization and as a result increase productivity at work, beginning with tidying up your desk. After all, we spend more time at the office than we do anywhere else during the week, and with the rise of open floor plans, being mindful of our desk space is a topical conversation.
Prior to the book's release date, I asked Lashley how she identified the problem that clutter creates in the office, what she did to prevent it within her own space, and advice she'd give to others who want to do the same. 
Why did you start decluttering at work?
At one of the first companies I worked for, people had a lot of things on their desks, and I never really got into it. They had solar activated toys where their heads would bop from side to side, and that gave me a lot of anxiety. One day, the president of the company—the home office was based overseas—visited and they were like yeah, you guys have to get rid of all this. They felt like it wasn't on brand and it was cluttering the place, and when it was all gone, it freed up the place. It's not like everyone had to get rid of personal objects, but some of them were really big and took up a lot of space.
After that happened, I was like huh, there might be something to keeping a lighter office space that allows for people to feel a lot more comfortable. I do it 60 percent for myself but also for neighbors. We have such limited desk real estate that once you start piling things on, you start to invade other people's space. I think it's nice and respectful but also, for me, it's a way I like to keep my space. 
How does the state of your desk affect you?
My desk is a reflection of the space in my head. When I come into work in the morning, I like to see a clean desk. It makes me feel like I have a fresh start to the day and it isn't this carryover.
If things start to pile up, I always make sure I have a clean desk again by the end of the day. It's essentially a place for me to execute my thoughts and take action, and I need the space to do that. Once I start feeling like I'm getting boxed in, I stop and throw things away because I start feeling overwhelmed if there's too much happening. But essentially, I like for it to be a clean space where I can think freely. 
Does this tie into a bigger trend happening in the workspace?
Decluttering is definitely a trend that's happening in the workplace because we have the open office concept. At first it was the new thing, but it's the norm now, and people should become more cognizant about their workspace and how it affects them and others.
That's the world we're in, where there aren't offices anymore and people have to work very close together. That's why you've seen an increase in people using headphones: even though you can't physically remove yourself, you need to mentally detach from those around you. 
What are the biggest challenges you've seen with decluttering at work?
Some people don't see the other side. They need to have pictures of their family, but we all have phones. If I want to look at a picture of my sister, I'll just pull up my phone. Or they have 13 pairs of shoes that they bring to work. I don't subscribe to that because I like to have options of shoes at home and not have to come into work to get my shoes!
It's separation of church and state. I think it makes me more effective. Some people do like the blend where personal and work weave together, but I find that when I keep it separate it gives me perspective. If it's too entwined, where's the space for inspiration?
What advice would you give for people wanting to "KonMari" their desk?
Going through the things that you have at work and deciding if it's essential to your work day or if it's going to spark joy. Some people need a visual to look at to get them stimulated. For me, it's looking at the window. I like looking at the skyline, I like to watch the sunset. For some people, it might be a personal object, like a photo or a flower or a plant, and I think that's fine.