Martha Stewart Launched a New Collection Inspired By Her, Ahem, *Four* Homes
We independently select these products—if you buy from one of our links, we may earn a commission. All prices were accurate at the time of publishing.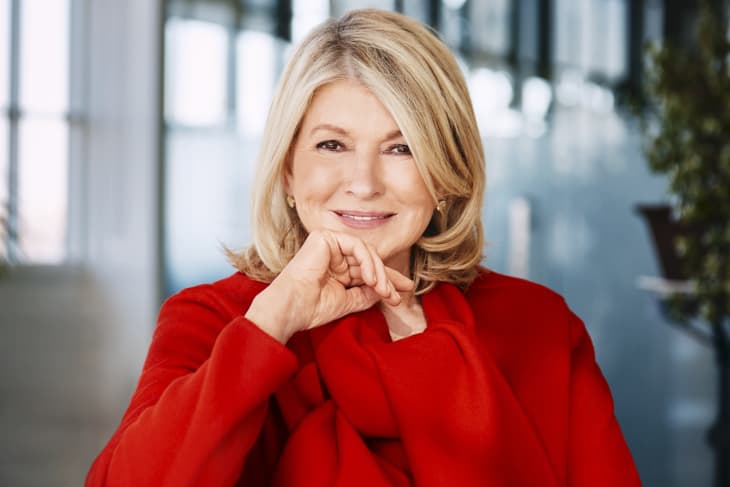 If anyone knows how to put together a meticulously decorated home, it's Martha Stewart. Actually, in Martha's case, that would be homes, plural—and all four of them are the inspiration behind the style maven's new shop on Wayfair. Curated into four distinct collections based on the aesthetic of each of Stewart's residences, the shop offers everything from sleek, modern gold end tables to vintage-inspired ditsy floral bedding. Whether you're partial to country, urban, coastal, or traditional decor, there's a selection of products to suit your style. Scroll on to see which Martha vibe best matches yours—and get ready to live (a little more) like a mogul. 
Based on her pad in New York's Greenwich Village, the Perry Street product selection has a decidedly modern, urban vibe. Clean lines, graphic, geometric details, and a largely neutral palette (think black, gray, and cream, accented with matte gold and silver) are the hallmarks of this collection. It's contemporary, luxurious and even a little glam—but in a subtly sophisticated, Martha-esque way. Among the Perry Street offerings you'll find unexpected pieces like a wooden dresser with gold leaf foil finish and sleek upholstered seating options with contrasting dark wood for a comfy-meets-contemporary feel. Also available: Rich, angular accent mirrors, abstract art prints, and a "Mad Men"-style bar cart. The look is totally city luxe, so if it's a posh penthouse vibe you're after (without the penthouse price tags) this is the category for you.
Inspired by her home in Bedford, New York, this rustic collection includes all the signature features of country farmhouse style without looking cliche or precious (there's not a gingham piece in sight). It's all done in a chic, restrained manner: The color palette consists largely of muted browns, grays, and blues, with vintage-style floral prints, reclaimed wood finishes, and a timeless overall look that never feels, well, old. The aesthetic is elevated but still inviting, with round window-framed mirrors, upholstered wingback armchairs, simple, sturdy end tables and cabinets in pale wood that have a handcrafted vibe. There's even quilted ditsy floral bedding that will make you feel like you woke up in the most charming bed and breakfast. Even if you don't actually have a "country home," transforming your living space into an airy country farmhouse just got a little easier.
Cheerful, bright, and beachy, the Lily Pond collection was inspired by Stewart's Hamptons home, naturally. Mixing pastel hues like pale blue and blush with punchy pops of coral red and ocean blue, as well as island-y accents like bold prints, flamingo and insect motifs, and rattan/wicker details, the vibe of this selection is laid-back but playful and fun—exactly what you'd want out of a beach home. Snuggle up in a reversible Jacobean floral and abstract patterned comforter set, update your throw pillow with a butterfly-embroidered cover, or capture that coastal mood via reclaimed natural wood furniture with cane-inspired details. Whether you actually live by the ocean or just want to feel like you do, this grouping will for sure suit your seaside style.
An homage to Stewart's remote estate on Mount Desert Island in Maine, the Skylands collection is traditional, elevated, and elegant: a true testament to the historic home for which it's named. Originally built for Edsel Ford, the Skylands estate is nestled in nature and greenery overlooking Seal Harbor, and its surroundings are reflected in the natural, earthy color palette of this namesake collection. In the Skylands product assortment, you'll find timeless decor pieces like an oval accent table and wood-shelved bar cart, both in antique brass finish, a natural-hued tufted wingback armchair, and botanical art prints likely nodding to the ferns surrounding the actual estate. It's a collection of sturdy, steadfast classics that are unlikely to go out of style anytime soon.