Mary & Eric's Harrison West Transformation
We independently select these products—if you buy from one of our links, we may earn a commission. All prices were accurate at the time of publishing.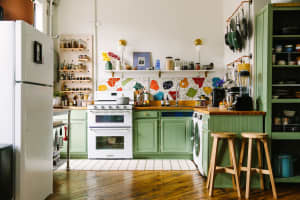 Can't-Miss House Tours Straight to Your Inbox
Keep up with our latest house tours each weekday with our House Tour of the Day newsletter
Name: Mary & Eric Martineau (and Bogart the dog)
Location: Harrison West — Columbus, Ohio
Size: 1,620 square feet
Years lived in: 2 owned for 3½
Follow Topics for more like this
Follow for more stories like this
Creative reuse is nothing new to Mary Martineau. As owner of Short North gallery Transformations, she used decoupage and paint to rework ordinary pieces of used furniture into functional works of art. Though the business has been shuttered, Mary continues to sell her wares at local craft fairs through her membership in the Columbus Crafty Cotillion. Her impressive wares are nothing compared to her biggest project: taking a 1903 Harrison West residence from a run-down, abused rental to a showpiece of ingenuity and hard work.
When Mary, marketing director for Columbus' North Market, and husband Eric, an attorney, bought the house back in 2006, it was, in words from their blog "very cute from the outside," but "a little frightening on the inside." You can see their full account of the renovation on A Bungalow Transformation.
Mary and Eric started their work on their "Folk Victorian Italianate Bungalow," without much renovation experience, but with plenty of determination. The project was no small potatoes — it took more than a year before the house was move-in ready. First, the Martineaus gutted the place, tearing down layers of wallpaper over drywall over studs over plaster over yet more studs, discovering gems like hidden pocket doors in the process. Then they (with the help of both friends and paid contractors) added new elements, such as arched doorways between rooms on the first floor and a completely new kitchen. Contractors "cathedralized" the first-floor living room — they cut out all of the joists from the former second story floor, providing an unimpeded view from floor to ceiling. The couple also added character — and saved cash — by using vintage and previously owned items such as salvaged wood, doors and bricks.
Columbus past and present is represented throughout the Martineau home. Stores in the now-demolished City Center mall were the source for two of the home's most eye-catching fixtures: a hanging stained glass lamp came to the Martineaus by way of a Max & Erma's restaurant at the mall, while a rolling brass library ladder in the couple's lofted bedroom once presided in the storeroom of a Foot Locker.
The home also plays testament to the Martineaus' passion for scooters and scooter culture — they're both members of the Columbus Cutters Scooter Club. Art in the home is nearly exclusively the work of Columbus-area artists. Mary once served as executive director of the Short North Business Association — which represents Columbus' arts district — and the home features pieces by Pug Heller, Chad Sines, Mindy Rhoads, Paul Volker, Dan Work, Grampa Smoky Brown, Rick Borg, Adam Brouilette, Clint Reno, Helma Groot, Eric Lubkeman and David DeLuca.
As any homeowner can attest, houses are continual works-in-progress. Still, with tenacity, creativity and plenty of hard labor, the Martineaus' turn-of-the-century residence has become a head-turner of a home.
Apartment Therapy Survey:
Our Style: A complete mish-mash of vintage, modern and thrift store chic with lots of local art hung in expected and unusual places.
Inspiration: Since this house was a complete "do-over" from when we purchased it, we were inspired to do the house justice. It had fantastic "bones" in that the exterior was old brick in great condition and it was a structurally solid house. It was adorable from the outside, even though it was missing its front porch. Inside it had been tragically "updated," meaning that with a few notable exceptions (the living room tile around the fireplace) every piece of original anything had been removed and, ugh, "improved" with wood paneling, dropped popcorn ceilings, vinyl flooring and layers of drywall.
So as we went along we tried to find vintage pieces to match the interior to the classically stylish exterior of the house. Much of the woodwork is reclaimed from other homes, as is the mantle in the entry. All of our doors were recycled from homes of a similar period. We added tile in the bathrooms and kitchens and refinished all of the salvageable original wood floors. We work on the furnishings as we go.
Favorite Element: Location, location, location! We were drawn to the house because it is in the Short North neighborhood in which we literally live, work and play. We fell in love with the brick exterior and the arched windows that detailed the house. We saw that it had a lot of potential that kept us (mostly) from running screaming in the other direction. The house is located less than a block to the river and the bike path, in close proximity to four parks and an easy one mile walk from High Street with plenty of amenities in between. As a one-car, one-canoe, one-dog, four-scooter, countless-bike family, it works well for our needs.
Biggest Challenge: Money. Renovations are expensive. Especially when you are gutting the building, changing the roof line and adding new windows in brick walls.
What Friends Say: We held a party when we bought the house to let all of our friends check it out before we began the renovation. We let them write on the walls and the note that stuck out was the one that said "Sell! Sell immediately!" We held another party when we were done and we think everyone was suitably impressed with the transformation and our personal touches.
Biggest Embarrassment: 1. That our living room couch is the one we bought when we were first married (13 years ago — hence the slipcover). 2. We have a long way to go in landscaping.
Proudest DIY: The tin ceiling in the kitchen. Mary found the product being manufactured in Cleveland, and looked up online installation instructions. It took us a weekend and it came out beautifully. Eric became a master of the miter saw and installed the crown molding as a solo adventure some months (perhaps a year-plus) later.
Biggest Indulgence: Our "wine cellar." We took a small (previously scary) room in the basement and tiled the floor and walls. We purchased IKEA wine racks, and the room now doubles as a wine and homebrew cellar. It will probably never house many bottles over $25, but we love it!
Best Advice: Renovate a house before you get too old. An acquaintance told us it's something everyone should do at least once and we should get on that. We took her up on it and have never regretted it.
Dream source: American Furnishings, Euro Classics
• Craigslist
• Grandview Mercantile
• thrift stores
• Springfield Extravaganza
• Habitat for Humanity's Build it Again Center
• Great Indoors
• Lowe's
• Hamilton Parker
• Lumber Liquidators
• L&E Stone and Kitchen
• HOUSE TOUR ARCHIVE Check out past house tours here
• Interested in sharing your home with Apartment Therapy? Contact the editors through our House Tour Submission Form.
• Are you a designer/architect/decorator interested in sharing a residential project with Apartment Therapy readers? Contact the editors through our Professional Submission Form.