Matte or Gloss? 5 Questions You Need to Ask Yourself First
We independently select these products—if you buy from one of our links, we may earn a commission. All prices were accurate at the time of publishing.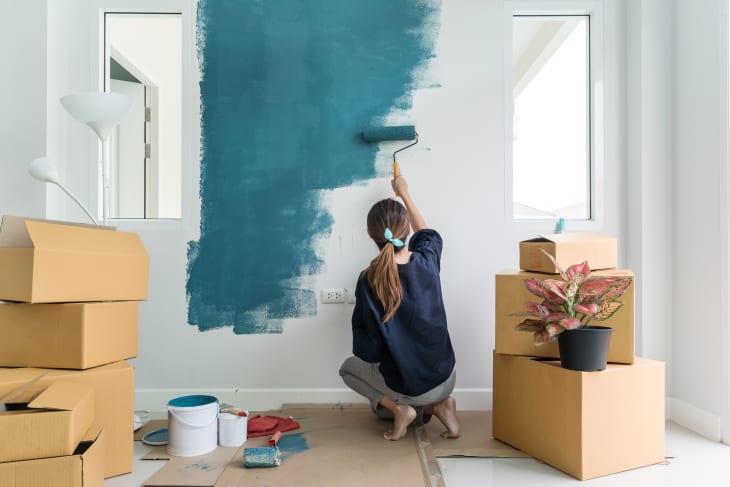 You don't need to be a D.I.Y. pro or color expert to know that picking a paint hue is easier said than done. With dozens of brands and ever-so-slightly nuanced shades to choose from, the whole process can be confusing, time-consuming, and headache-inducing.
Follow Topics for more like this
Follow for more stories like this
But even if you know all the questions to ask yourself when narrowing down your paint chips, you might forget to factor in the finish. Deciding between matte and gloss may seem like an afterthought, but in reality? It's anything but.
"Many homeowners forget to consider the purpose of the room — type and traffic — and how the sheen will affect the color chosen," Jessica Barr, national trainer at the Behr Paint Company. "Not only does the sheen impact how your color appears, it also impacts the durability and scrubbability of the surface."
To ensure you're making the smartest (and most stylish) decision for your home, here are a few things to consider when choosing between matte and gloss.
1. "What Material Am I Painting?"
A surface is a surface, right? Not quite. A wooden cabinet and a plaster wall will have two very different looks and textures, so it's no surprise matte and glossy finishes will not look the same on them, either.
"They both feel different to the touch," explains Julien Chapuis, CEO of Ressource Americas, a French paint manufacturer.
While there are some exceptions to the rule, Chapuis says glossier finishes tend to be well suited for woodwork.
2. "Will I Touch This Surface a Lot?"
Very few things can cramp a well-curated space like a wall covered in greasy fingerprints. If you're painting something that will be touched a lot — think the wall right by your bed or your kitchen cabinets —  it's a good idea to consider how easy it will be to clean.
"Hi-gloss enamel provides a brilliant shine and is easy to wipe down, making it perfect for moderate to high-traffic areas like cabinets, furniture, wainscoting, doors, and trim," Barr explains. "Remember, the higher the sheen, the easier to clean!"
Though a matte finish will look great, she warns that it may require some extra elbow grease to maintain its sleek appearance.
3. "How Flawed are My Walls?"
Your walls don't have to "talk" to share their history. Between cracked foundations, water damage, and other wear and tear, just one look will show you how much your walls have been through.
If you're looking to mask your walls' flaws, you might want to opt for a matte finish.
"Low-luster sheens are non-reflective and will hide minor surface imperfections," Barr says, adding matte is an ideal choice for ceilings and bedrooms. "[Since] glossy sheens are very reflective, they will magnify surface imperfections and patched areas that are not completely uniform with the original surface."
4. "How Much Color Do I Want?"
The type of paint finish you choose should ultimately cater to the vibe you want your space to convey; however, Chapuis points out gloss finishes often pair nicely with bright hues.
"Gloss is shinier and usually more vibrant in color than matte, which is considered understated," he says. "Higher sheen coatings enhances colors and sharpness."
Does this mean you should only use bright hues in a gloss finish? Not necessarily, but it is something to consider when you're making the big decision.
5. "Could I Use Them Together?'
Who said you had to choose between one or the other? According to Chapuis, utilizing both matte and glossy in one space can up the design ante.
"Any color can look great in both gloss and matte finishes and provide a completely different feel," he says. "We even recommend to mix gloss and matte finishes of the same color in the same space to create a unique, unexpected interior."
Would you use matte and gloss finishes together? Let us know what you think in the comments below!