This Space-Saving Rolling Cart Is the Storage Solution I Didn't Know I Needed
We
independently
select these products—if you buy from one of our links, we may earn a commission. All prices were accurate at the time of publishing.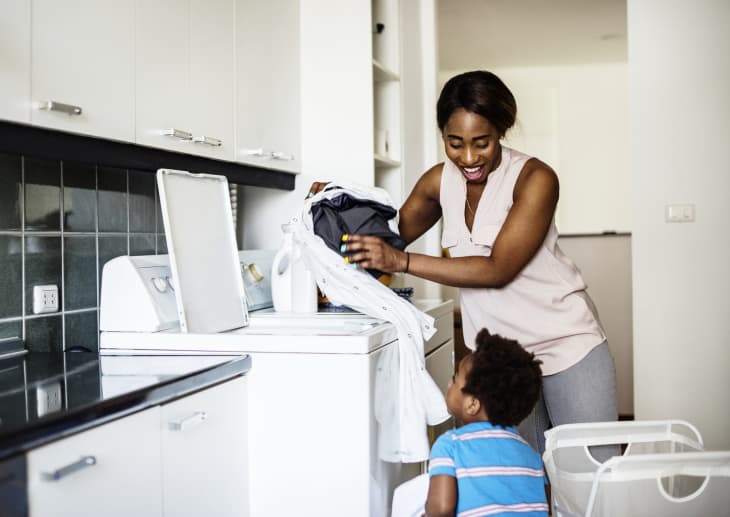 My laundry room also happens to be where I keep my expansive collection of cleaning products. It's convenient to have all of them in one place, but I recently reached a saturation point of needing to either throw things out or organize them much, much better. Bottles and containers were beginning to pile up fast, so I went looking for a way to clear clutter from the laundry room shelf where I keep all of my cleaning potions and powders. In my quest to find a way out of the mess, I came across the Slim Metal Multi-Tier Rolling Laundry Cart Utility Shelf from mDesign, and it's already a storage game changer.
This organizing wonder reminded me of just how handy rolling carts with bins can be. We used them all the time when I was growing up (my grandmother still has one), but for some reason I never thought about getting one for myself… until now. It's become my go-to spot for keeping my Shimmy and Shimmy Go hand sanitizer refills, Cleancult refills, dryer balls, small jars of cleaners, and the many vacuum attachments that had formed a small pile on the floor. Instead of looking at a crowded shelf packed with too many items, I can keep everything on the cart and out of the way. Bonus: The cart is so slim that you may even be able to tuck it into the space between the washer and dryer.
Despite its long name, the Slim Metal Multi-Tier Rolling Laundry Cart Utility Shelf is a super-simple device that can be used for so much more than just laundry products. The bins hold everything from bottles and boxes to snacks and drinks. And even though assembly is required, you don't need any tools needed to put it together. The wheels insert directly into the rails, and the baskets easily snap onto each tier. They lock in place and don't shift around, and if I ever need to take the cart apart, each piece can be removed with a quick pull.
Another feature I love about the Slim Metal Multi-Tier Rolling Cart is the gorgeous color selection. In addition to the standard silver, white, and black, you can get it in mint green, bronze, and even pink! (There's also another version with four tiers instead of three.) It's actually stylish enough to use outside of the laundry room, especially if you want to leave it out in the open where guests can see it. Use it for school and office supplies, pantry items and snacks, and any other small items that may not have a proper space to call their own. It's small-space friendly, incredibly useful, and (in my case) holds enough to clear out an entire shelf. For an unexpected and affordable organizing solution, I couldn't be more thrilled with this find.

Buy: Slim Metal Multi-Tier Rolling Laundry Cart Utility Shelf, $34.99