"Mean Girls" Musical's Barrett Wilbert Weed's Small Hell's Kitchen Studio
We independently select these products—if you buy from one of our links, we may earn a commission. All prices were accurate at the time of publishing.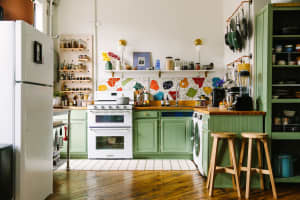 Can't-Miss House Tours Straight to Your Inbox
Keep up with our latest house tours each weekday with our House Tour of the Day newsletter
Name: Barrett Wilbert Weed
Location: Hell's Kitchen — NYC
Size: 400 square feet
Years lived in: 2 years, renting
Much of the gossip surrounding this year's Tonys centers around the Mean Girls musical, inspired of course by the movie of the same name (a movie that was written by Tina Fey and has a devoted and quote-reciting cult following). The musical, which opened on Broadway this past April, is just as big of a hit, earning 12 Tony Awards nominations this year, including Best Musical. Barrett Wilbert Weed is the talented cast member who plays Janis Sarkisian. Along with having a great set of pipes, she also has an incredibly cute, terrifically tiny, 95-square-foot studio apartment in Hell's Kitchen.
This is really only a peek; her kitchen and bathroom haven't been photographed, but it's a fun stylish space and a good example of how to make a teeny, tiny studio feel airy and bright. Barrett shares more about what she calls her "shoebox" home:
"I am a homebody in my heart of hearts. Don't get me wrong, New York is one of the greatest cities in the world. I love being out in it and then coming home to an incredibly calm tiny escape environment. I live on a really high floor intentionally to minimize sound and I live in a tiny shoebox because that's what you do when you live in New York and you're not a billionaire, right? I feel very fortunate that I can't see my front door from my bed (!) but other than that, my studio is small. Basically, my idea was to create different spaces within one space. When I'm at my desk, I can't see my bed. When I'm in my bed, I can't see my TV. And when I'm watching TV, I can't see anything because I'm watching TV, and the world does not exist. I have some mirrored furniture pieces, which is a way to make the room feel larger. I have a wall of windows that faces the Hudson, so I went for a daybed that's really close to the floor. This way I can see everything (and my neighbors can see directly into my apartment) and still have a comfy couch to collapse and eat snacks on when I get home from the show.
I have a fairly substantial collection of vintage travel pennants from places I visit. One that says "READ" is from Powell's in Portland, one with all of the monuments from D.C., two matching glittery ones that are the exact pennant in two different colors from two random small towns. Go figure. And then I have a huge 1920s pennant from Jackson Hole and a teeny tiny red one from Texas.
On the shelves above my desk I have some conch shells from Anguilla that I found on the beach, two porcelain elephants from an antique store in the Berkshires (as well as a porcelain goldfish), a horseshoe from a ranch in Arizona I grew up riding at, and a collection of tiny Broadway trinkets from shows that my aunt was in during the '70s: a comb from Grease (how appropriate) and two pins from Nine and Grand Hotel. I also have half a set of pool balls from a trip my friend Corey and I took to Boston—he has the other half. Friendship billiards. I keep my remotes in a shell-covered box I got in a tourist trap in Greece. It was about €10 but it looks like something you would buy from ABC Home for $1,000… please don't spend $1,000 on a box.
Obviously, I like to collect little trinkets everywhere I go. I have to limit myself to very small things or things that have a purpose. Like something that can be hung up or used to keep things in. I have a vintage ashtray from Jackson (holds my keys) and a coffee container from a trip to Sweden. I love old things because I live in a completely new building. I grew up in my parents' teeny tiny antique dream house in Massachusetts so I need some old things around to feel comfortable. I'm also prone to being VERY messy if I'm not careful so I just try to only buy tiny things. I usually fail. My bed frame and my daybed are both wooden from Urban Outfitters and I got my big squishy grey plaid chair from West Elm. I got this little laptop desk from Ikea for $40 and spray painted it rose gold. The place where the laptop goes is where my DVD player and Apple TV live now. I am very proud of this table, can you tell?
I think the vibe of the space ended up being my childhood bedroom grown up. Shells, trinkets, natural elements, lots of blankets, a lot of stuffed animals for an adult woman?, and things that remind me of who I am. I am very drawn to pink so I have to be careful about buying it. It would be super easy for me to end up with a completely pink apartment. Instead, I just have pink blankets and pillows and a TON of pink books and bags and shoes and accents.
It wouldn't be me if it wasn't at least a LITTLE eclectic, right? Right."
Barrett worked with Molly Torres, a Homepolish designer, to take a plain, new studio and turn it into a glam, bright, welcoming home. Molly answered the survey questions below.
*Correction: This tour originally stated the studio apartment was 95 square feet…it's actually 400 square feet. 95 square feet is the size of Barrett's dressing room…which we'll also be touring this month!
Apartment Therapy Survey:
Barrett's Style: Boho-chic.
Inspiration: Though her studio apartment's small, Barrett's space has floor-to-ceiling windows with insane panoramic views that make it impossible to forget you're in the heart of NYC. Any New Yorker (actually, any human!) would covet the amount of natural light in Barrett's home, which lends itself to a soft palette of neutrals, blushes and metallics, with a pop of bright color in the turquoise area rug to anchor the space.
Favorite Element: All of the art in the space is Barrett's personal collection that's been gathered, passed down or gifted throughout the years. When I arrived for our first consultation, the framed photo of Barrett and her Heathers cast members was still half inside its cardboard delivery box, sent courtesy of Barrett's mom. She was unsure about displaying it, but the scale and color was so fun! It didn't take much convincing for her to let me display the framed piece front and center over her bed.
Biggest Challenge: Barrett's a musical actress, currently starring as Janis Sarkisian in the Broadway-bound musical adaptation of Mean Girls. Her schedule is bananas and she's constantly performing and working. It was super important to both of us that her home be a relaxing, personal environment for her to unwind in, which is no easy feat in a studio apartment!
What Barrett Says: "Molly helped turn my apartment into a sanctuary in the middle of the busiest city on earth. The collaborative process was so fun and she used so many little pieces I already had to create a stylish, calm, beautiful environment. Couldn't be more psyched about my space."
Quirkiest Element: Most besties have friendship bracelets with a set of half hearts. Barrett, being the unconventional queen that she is, shares a vintage pool ball set with her best friend instead. The moment I set eyes on her half of the set, I knew I wanted them to be a main event in the space. Cue their new home: perfect little display cubes from The Container Store!
Proudest DIY: Finding the perfect way to display Barrett's quirky pennant collection was the most challenging and rewarding part of the design.
Biggest Indulgence: The whitewashed wood bead chandelier. It's a spot-on representation of Barrett's "boho-chic" style with its organic, yet sophisticated feel.
Best Advice: I steered away from dark colors, opting to keep the space light and bright, which helps it feel larger. Besides utilizing Barrett's blank walls, I also "built up" to take advantage of the full wall height. Styling was critical in this (and any) small space project. I made it a goal to ensure that anything displayed had a purpose in the overall design. The daybed serves a dual purpose: it's the absolute best place to nap AND a very small portion of Barrett's shoe collection (the girl's got a whole closet dedicated to shoes… insanely jealous!) is stored/displayed underneath.
Antique Whitewash Wood Bead Chandelier – World Market
(3) 3 Feet White Marble Mix & Match Wall Shelf – World Market
(2) Gold Metal Mix & Match Shelf Brackets, Set of 2 – World Market
White Display Cubes, Small — The Container Store
Tassel Garland (no longer available) – Urban Outfitters
STiiCKs® Magnetic Poster Frame, White – Well Made
Amira Carved Wood Daybed, White – Urban Outfitters
Rohini Velvet Daybed Cushion, Lavender – Urban Outfitters
Herringbone Throw (color no longer available) – H&M
Velvet Cushion Covers in Dusty Pink, Mustard Yellow, Gray – H&M
Fringe-Trimmed Cushion Cover in Dusty Pink, Gray – H&M
Quilted Velvet Cushion Cover, Light Pink – H&M
Faux Fur Cushion Cover, Natural White – H&M
Erskin 70-inch Silver Foot Switch Floor Lamp – Lowe's
Park Mirrored Tower Dresser – Pottery Barn
NuLOOM Vintage Inspired Overdyed Rug, Turquoise – Hayneedle
Laredo Mirrored Desk – Houzz
*This interview has been edited for length and clarity.