Meet Lil Blue, The Tiny House Parked on a Farm in Iowa
We independently select these products—if you buy from one of our links, we may earn a commission. All prices were accurate at the time of publishing.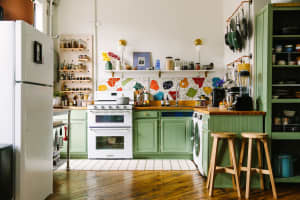 Can't-Miss House Tours Straight to Your Inbox
Keep up with our latest house tours each weekday with our House Tour of the Day newsletter
Name: Sarah and Jordan
Location: Elkhart, Iowa
The basics: 2 years, owned | 160 square feet
Sarah harbored tiny house fantasies. She and her husband turned her dreams into reality. The pair set up shop in an adorable tiny home, finding cute ways to maximize space at every turn.
Tell us a little (or a lot) about your home and the people who live there: My husband, Jordan, and I live in this 160 square foot tiny house, which we've dubbed Lil Blue. It is 8 feet wide and 20 feet long with an additional sleeping loft that is 8×8 feet. It sounds teeny but it actually feels more spacious than you might expect. The taller ceiling (13 ft) definitely helps to make it feel that way. Jordan is a Marriage and Family Therapist and I am an interior designer. This is the first home that we own and it has been so much fun doing anything we want to make it our own. We were interested in trying out the tiny lifestyle for so many reasons: we wanted to pay less in rent so we could work on paying back our student loans, we wanted to pursue a more natural and sustainable lifestyle, have a smaller carbon footprint, and challenge ourselves to live with less. We moved around a lot in our first years of marriage and we were tired of renting apartments that kept us from creating the space and home we truly wanted. Now with Lil Blue, we are parked on a grass-fed meat farm in central Iowa, where beauty abounds just outside our door. In exchange for parking and living on the property, we work on the farm tending to the gardens and various other chores, and we also pay rent. We are so grateful that we get to live on such a beautiful property and feel lucky that we get to enjoy it even if it isn't ours.
What is your favorite room and why? My two favorite places in Lil Blue are the loft (our bedroom) and the corner of our L-shaped bench in the nook by the window. I love our loft because it is so cozy. We are surrounded by our favorite books and soft lighting, and with the ceiling and windows so close to our faces, it feels like the best parts of camping—the breeze on your face and the tight coziness of the space. We have a sloped ceiling which gives us plenty of overhead clearance to sit up and read or watch movies and lean against the windows. The nook is my other favorite spot because I love being able to see the whole house from that perspective. I get to look out our large windows above the fireplace, see our loft, and our bright kitchen. It just makes me happy.
If you could magically change something about your home, what would it be? My husband would say the size! Haha. He has supported me fully on my dream to live tiny, but it wasn't his first choice of living situation. If I could I would magically change our water situation. There is no well to hook up to where we are parked on the farm. Even though our house is equipped for running water (we have plumbing, a hot water heater, kitchen sink, and shower) we aren't near enough to a water source to access it. Because of that we haul in our own water. We conserve our water as much as we can to limit how often we do this chore. Showering would deplete our water tank on a daily basis, so we instead shower at the YMCA (or at friends' and family's houses). Not being able to shower in your own home (and hauling water) can be exhausting. It would totally change our lives if we suddenly had running water again.
What's the last thing you bought (or found!) for your home? The green dresser in our closet (next to the refrigerator). We had been hunting for a wood dresser for our fifth wedding anniversary present (wood is the traditional gift theme for the fifth year) but it was really hard to find because the space we had available is narrower than the modern dresser size. Our shared closet space is only 26 inches wide. We finally found this one, which just BARELY squeezed in. We love it! It has been great to organize our closet and utilize the space to the max. We love having the green pop in an otherwise neutral and primary color-schemed space.
Which fictional character would be most at home in your place?I'd like to think that my favorite fictional character, Anne Shirley of Anne of Green Gables, would be most at home. We live on a farm with sheep, cattle, horses, and chickens; there's beauty and green everywhere. And a comfy place to watch it all from. I think she would love the nature unfolding from our windows and enjoy the beauty of the interior.
Sarah's words of wisdom: Being in a tiny house, our situation is a little different than the average homeowner. We have to be especially selective with the things we allow into our home. But it all started with a painting. We found a painting that we loved (the large floral one in our living room), and that became the color palette that we tested everything against. Having that guideline made hunting for the right thing that much more fun. Just like having a gift theme for anniversaries, it gives you both something to reference (and helps you not get overwhelmed when facing immense choices) and makes you get creative within the parameters.