Meghan Trainor and Her Husband Have Toilets Next to Each Other
We
independently
select these products—if you buy from one of our links, we may earn a commission. All prices were accurate at the time of publishing.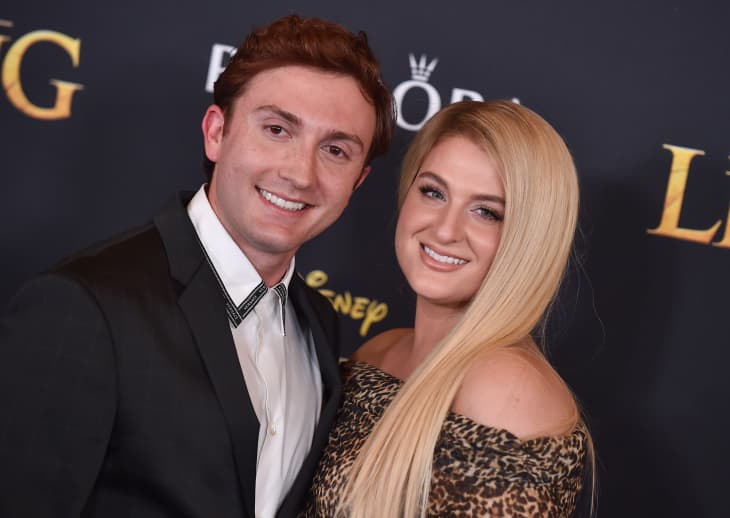 Meghan Trainor and husband Daryl Sabada are extremely close. Both emotionally, and as it turns out, distance-wise. 
The "All About That Bass" singer shared on the podcast "Why Won't You Date Me?" last week the couple installed two toilets right next to each other in their new house so they could use the bathroom at the same time. 
"We just got a new house, and we did construction," Trainor, 27, explained, according to Page Six. "Nobody knows this, but in our bathroom, there was one toilet, and a lot of the time in the middle of the night when we're with the baby, we've got to pee at the same time. So I was like, 'Can we please have two toilets next to each other?'"
Trainor continued, sharing that the couple, who welcomed a baby boy named Riley back in February, have actually put the special seating arrangement to use. 
"We got two toilets sitting next to each other, and we've only pooped together twice," she said. "We pee at the same time a lot."
But the couple's connection goes far beyond the synchronicity of their digestive tracts. 
"The best part about my relationship is that Daryl — he cares so much about me, my well-being, my emotional state, my physical, everything," Trainor shared about her husband, who is best known for his role in "Spy Kids." "And he just wants to do anything he can to make me better and make my life easier."
After the story of simultaneous number twos went viral, Trainor took to Twitter to clarify her statements. 
"To clear things up… we pooped ONCE together and we laughed and said never again… but he will hang out with me if I'm (poop)ing cuz WE SOULMATES. And I legit miss him when I'm away from him. And we pee together obvi."
Clearly, Trainor and Sabara aren't the only ones having fun with this story. On his YouTube page, Meghan's brother Ryan Trainor, with whom she has a new podcast called Workin' On It, recorded himself flabbergasted at the variety of publications that covered the story.
At the 4:26 mark of his video, Sabara himself pops in, saying "People just care about our s***, bro."
"Oh I love Daryl," Trainor laughed. "Daryl popped in at the right time, dude. That was prime time."
As for the happy couple, it looks like their calendar may get even busier in the near future, because they're already plotting for more babies. 
"I hope I have a baby girl next," Trainor told E! News last month. "I'm hoping for twins next time. I just want to get like two in one done. I want a baby girl. I'd love a baby boy but I want Riley to have a sister."