This is the Holy Grail of Rentals: 15 Foot Ceilings, a Tiled Fireplace and Wood Paneling
We independently select these products—if you buy from one of our links, we may earn a commission. All prices were accurate at the time of publishing.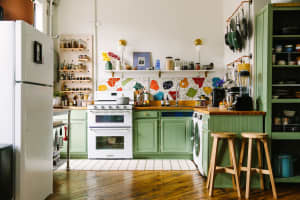 Can't-Miss House Tours Straight to Your Inbox
Keep up with our latest house tours each weekday with our House Tour of the Day newsletter
Name: Mohammed & Sally
Location: Point Breeze/East End — Pittsburgh, Pennsylvania
The basics: Two years, rented | 1,065 square feet
Mohammed's Pittsburgh apartment is full of the kind of antique charm that seems to only fall into the hands of TV characters and beach read heroines. Not one to rest on the laurels of enviable wood paneling, he has filled the space to the brim with stunning finds and impressive DIY upgrades. Can we move in?
Tell us a little (or a lot) about your home and the people who live there: I grew up the oldest child of parents with serious wanderlust. I cannot recall living in any one home for more than a couple years during my teenage years, so when I moved to Pittsburgh seven years ago from northern California, I sought to be intentional about rooting myself in the city for a good chunk of time.
Seven extraordinarily interesting years later, I can say that I've succeeded in realizing this intention. One major consequence of this intentionality has been that I've tried, whenever possible, to purchase pieces that, slightly more expensive upfront, exude both good design and great comfort. Hence, most of my furnishing and design choices are about creating conventional spaces where form and function exist in mutual harmony. That is, these spaces strive to be supremely comfortable, but this comfort emanates not just from the quality of their construction and the way they indulge the body but also from how they charm, calm and control the eye.
I find this synthesis occurs most often, for me, when I succeed in imbuing these spaces with clean and simple lines, heightened by pops of color (in this particular apartment, a light mustard hue of yellow), touches of mild bohemianism, and plenty of negative spaces (empty tabletops, wide-open floors, relatively bare walls) interrupted by organic shapes like flowers and pieces of wood.
What is your favorite room and why? My favorite room is the grand living room because of its coffered 15-foot ceiling, 10-feet high wooden paneling on all sides, built-in bar cabinet, and the imposing and original turquoise tiled fireplace. Most of the furniture I have in this room (the George sofa and the Eames lounger) came from my old apartment, but really have the space to shine in this room because they are offset by ample negative space. Likewise, the classic Persian rug that anchors this room ran embarrassingly up the walls in my old living room, but has plenty of space to float attractively in the center of this room. And, again because of the dimensions of the room, I am positively spoiled musically; I can noodle away at a baby grand piano or put a pretty high-powered turntable setup through its paces without (as far as I know!) aggravating the neighbors. Quite frankly, I am scared to ever leave this apartment because of the sheer indulgences this room has permitted me, indulgences which I know I'll hardly be able to replicate in much more conventional living rooms in the future.
What's the last thing you bought (or found!) for your home? The last thing I bought for my apartment is a deep and large overstuffed leather armchair that inspired me to convert my backroom, which has served, at different times in the last two years or so, as a craft room, study, and spare bedroom for my brother, into a dressing room. It was an absolute steal at its price; given the Hot Wheels, crayons, and nickels I pulled out of its nooks and crannies after moving it into that room, suffice it to say that a suburban family spent years wearing in the leather to a fine patina and suppleness. In the dressing room, it presents an appealing textural contrast to the red brick walls behind it, and positively invites one to spend hours curled up in it contemplating even the simplest of wardrobe choices!
Which fictional character would be most at home in your place? I empathize pretty strongly with creative yet hyper-rational male characters, and I like to imagine that such types would thrive in the sort of place that I live in. So, I'll say that Sherlock Holmes could quite possibly be most at home in my place. (By the way, for all of you lovers of Sherlock — the recent BBC series — can we take a moment to collectively lust after that beautifully crumpled slate-grey Le Corbusier LC3 Grand Confort armchair that commands center stage in his quarters at 221B Baker Street?)
Mohammed's words of wisdom: Scour Craigslist. You'd be amazed at how many extraordinarily well-designed objects end up as someone's "trash," and oftentimes there is a far greater joy to saving these objects from the landfill, even if it requires a slight bit of elbow grease, than there is in buying something slick and shiny and brand-new. To give you two examples, my credenza is a repurposed Bassett midcentury china hutch, and the long slatted table holding the mirror in the bedroom had been spray-painted black and stored in a grimy garage by the time I rescued it from an estate sale and restored it.