Mike's Creative 1932 Craftsman Bungalow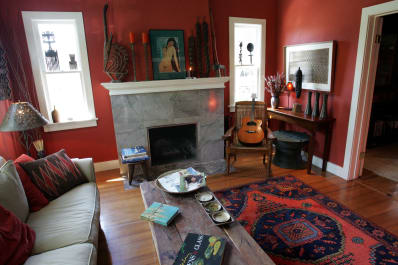 (Image credit: Submitted by Mike)
Name: Mike
Location: San Antonio, Texas
The house was only the second one I ever looked at and though it needed a lot of work, it spoke to me right away. My dad and I did all the renovation — a complete gut — over the next year and a half. When we weren't actually working on the house itself I was designing and building furniture for it. By the time we were near completion I was working on designing and building zen/industrial-inspired lighting from re-purposed leftover materials, which actually has become my second business: Lightlink Lighting.
(Image credit: Submitted by Mike)
My personal style ranges from contemporary and mid-century modern to
Arts & Crafts to zen/industrial; anything made with authenticity, natural materials, clean lines and soul. And a story. This house is beautiful, comfortable, has everything I need, is affordable and best of all, it's finished. It's also near everything: museums, the Riverwalk North, the Zoo, the Botanical gardens, parks, walking and biking trails and various great live music venues and bistros.
(Image credit: Submitted by Mike)
My favorite rooms change from season to season. In the Fall and Winter the living room is an inspiring space to be, with its full-sized marble fireplace, hardwood floors and large, comfortable couch — a great room for reading and entertaining. In the warmer months the kitchen seems to be the place to be as its back door leads out into the zen garden (what we call the Garden of the Moon), so fresh herbs, vegetables, peaches and pecans (in the Fall) are a few steps from the kitchen. The house is of course very comfortable and cozy, but what it has is a sense of serenity and soul.
(Image credit: Submitted by Mike)
My dad — formerly an engineer — and I took a lot of time with the details and infrastructure. We replaced all the wiring, plumbing, refinished the longleaf hardwood floors, redesigned the kitchen and bath, installed touch dimmers, can lighting, wired for sound in three rooms, re-roofed it with fast cooling metal, added central A/C, decked out the attic, all new sheet rock, trim, locks, slate backsplash, marble fireplace surround, glass blocks in the shower, etc.
(Image credit: Submitted by Mike)
Now it's a place where friends and I can play and record music, design, do art, read, garden, and be at peace right in the heart of a very vibrant, large, fast growing city. Its really an oasis in the center of all this activity. The Zen-like calm in the storm, if you will. It's also the largest project my dad and I ever did together and how I'll always remember him and that time together. And what's interesting is that apparently it's a magnet for creativity. Since living here I've discovered it's been the home of a very talented, Grammy-winning guitarist/producer here in San Antonio, plus a writer/artist who's shown in Paris and now, being a guitarist/writer/lighting artist, it's apparently my turn.
Thanks, Mike!
• Interested in sharing your home with Apartment Therapy? Contact the editors through our House Tour & House Call Submission Form.