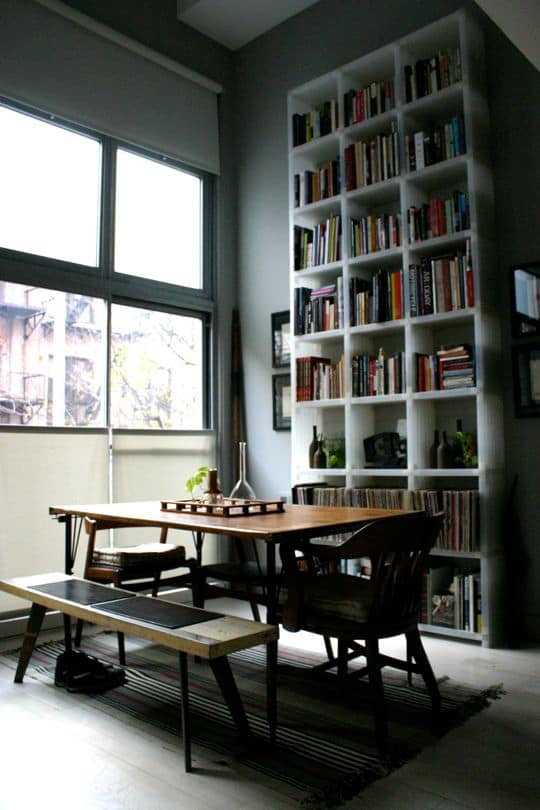 Name: Michael Murphy
Location: Brooklyn — New York, New York
Size: 615 square feet
Years lived in: 5 — owned
As an interior designer, Mike is used to working on high-end projects for which he might source a sofa for $45,000 without blinking an eye. But when it comes to his own home, he intentionally aims for a more relaxed look through a combination of vintage modern furniture pieces and his own personal handiwork.
Just like pets can often resemble their owners, a person's home can sometimes look exactly like their inhabitant - and such is the case with Michael Murphy and his lofted apartment in Williamsburg, Brooklyn. From the salt and pepper color palette to the tasteful assortment of vintage furniture that's just a little bit rough around the edges, Mike Murphy's apartment can easily be classified as ruggedly handsome.
"I like when things get used and dented," boasts Mike. "I think it adds to the beauty of the piece." This aesthetic can be seen throughout Murphy's home, like in the way he opted for a rub instead of a stain on the white bleached flooring so it would wear faster, and in his customized kitchen with the less formal honed marble that reminds him of his Grandmother's counter tops. Other personal touches include works of art he's received as gifts from friends and loved ones and an impressive collection of snow globes he's been amassing since his early twenties.
Everywhere you look there's something cool to take in, and everything is endowed with a great story of how it ended up in Murphy's apartment. "The dining room table is fashioned out of an old drafting board I found in the trash. I took it home, refinished and re-waxed the top and added the 1950's hairpin legs - now I can drop the table down to 14 inches, or raise it to buffet table height." Mike is charmed with sidewalk luck, having discovered many of his best pieces on the streets of New York and Philadelphia. But of his amazing history with street finds, he says those days over. "Yeah...I don't recommend that anymore because of bed bugs - it's out of my repertoire these days."
To see more of Michael Murphy's apartment and view examples of his other work as an interior designer, visit his photo gallery page here.
Apartment Therapy Survey:
My Style: My style is what I call "masculine vintage" It is a design philosophy that explores the ideas of color and shape with materials and patterns. The palette is cool and controlled. The shapes are formed and in scale. The objects are found and weathered with time and use. The overall effect is a warm space that will allow control in its clutter and comfort for it inhibitor. The word masculine I define not as man, but as a sense of being. I welcome the entire color palette but it's the control of the world being created with the use of wood and objects that define what "Masculine vintage" is to me as a designer.
Favorite Element: I love objects that act as two. A chair that become a ladder or a bed with storage. These simple things that give dual benefit in tight spaces
Biggest Challenge: The biggest challenge was the open wall that was created with the 18" ceilings. I did not want to create a salon-style wall with art, which has become over created in retail design. I wanted the warmth of home - and what creates that better then the words and color on book spines? The bookshelf is a simple structure that allows the eye to accept the height without it being lost in world of artist ideas. The subtle colors the book spines create the only real introduction of color into my apartment.
What Friends Say: The best complement I have ever gotten was "I never thought I would like it as much as I do!" Yes, I know it may sound back handed, but I love pushing someone's idea of design further than what they thought would look great - which is why the sofa is nowhere near the place it should be of center.
Biggest Embarrassment: The floor is white in my response to the Brooklyn dark floor style that has become so obvious. The apartment was done entirely in white - walls and all furniture...kitchen included. But it lacked soul and warmth...it looked great of course, but I never wanted to be home. I gave all my furniture away the day I found the black leather sofa.
Proudest DIY: Have you seen my kitchen?
Biggest Indulgence: The sofa is Hans Wegner from the 60's. I covered this cost with the found objects and furniture I collected from the streets of NY. 70% of the furniture is found and mixed with 20th Century Modern.
Best Advice: BREATHE....it does not need to be finished tomorrow. Personal design is organic and should never be rushed....if you want it done on time...you hire me. (-:
Resources of Note:
ENTRY

LIVING ROOM

• Sofa: Baxter & Liebchen
• Side tables: Baxter & Liebchen
• Painters cabinet: Chicago
• Graffiti piece: Salvaged from a skateboard ramp found in Tompkins Square Park
• Prints: Gerard Brown
• Window panels: The Shade Store
• Rug: Sample sale dream come true
• Pillows: Made from vintage fabric, a collaboration with Aaron Sciandra of Brooklynbags.com
• Blanket collection: Vintage
DINING ROOM

• Chairs and bench: Sidewalk finds
• Leather seat pads: Cut from a vintage desk blotter
• Bookshelf: DWR
• Prints: Vintage, found in Philedelphia.
• Pottery: Original Johnathan Adler pieces.
KITCHEN

• Carrera Marble: ABC Stone
• Appliances: GE
• Snow Globe Collection: Wrigley Stadium in Chicago
BEDROOM

• Headboard: Made from an old dining room table, upholstered in leather
• Linens: Comfort Linen
• Light fixtures: Visual Comfort
• End tables: Vintage
• Woodpeck sculptures: Thailand
OFFICE

• Filing cabinet: Philadelphia street find
• Tables: Ikea with a black paint and mahogany stain.
• Shelving: Metal system from flea market.
• Bar stools: Craigslist
• Rotary phone (fully functioning): Sidewalk find
Thanks, Mike!
Images: Mat Sanders
• HOUSE TOUR ARCHIVE Check out past house tours here
• Interested in sharing your home with Apartment Therapy? Contact the editors through our House Tour Submission Form.
• Are you a designer/architect/decorator interested in sharing a residential project with Apartment Therapy readers? Contact the editors through our Professional Submission Form.

Apartment Therapy supports our readers with carefully chosen product recommendations to improve life at home. You support us through our independently chosen links, many of which earn us a commission.