"Million Dollar Listing" Star Fredrik Eklund Shares His Colorful Beverly Hills Home
We
independently
select these products—if you buy from one of our links, we may earn a commission. All prices were accurate at the time of publishing.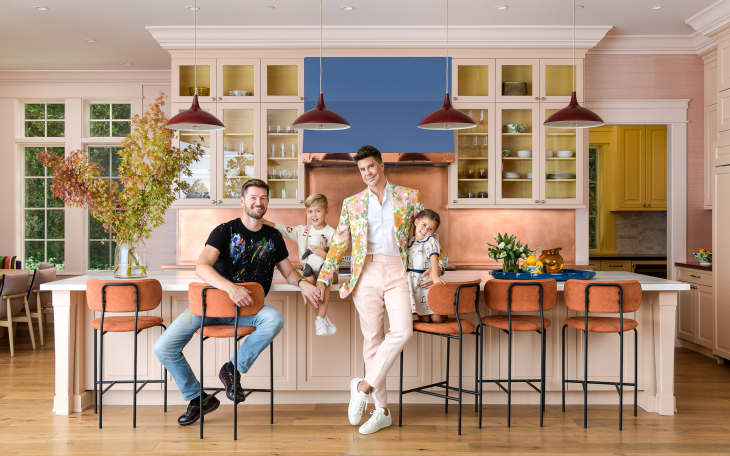 Fredrik Eklund is generally spotted in other people's real estate. But this time, the star of Bravo's "Million Dollar Listing" is showing off his own property. Eklund welcomed Architectural Digest to the Beverly Hills home he shares with his husband, artist Derek Kaplan, and their twins, Milla and Freddy. The joyous space, nicknamed "the Color House," will instantly put a smile on your face. 
Step inside to the foyer, where subtle pink colors create a sunny, welcoming ambiance. The sitting room, with oversized windows covered in bold, mustard yellow drapes and rich leather couches, is anchored by a graphic fireplace. Blush pink accents on pillows and throws complete the comfortable space.
The kitchen is equally as lively. Filled with copper, blue, and pink, the space is ideal for a busy family on the go. In addition to the long, center marble island with a row of coral nubuck suede barstools, the most unique piece in the kitchen is the stove, a custom blue L'Atelier Paris range. (Eklund says he thinks the food tastes even better when cooked on it, of course.) A cozy breakfast nook features a multi-colored custom-built banquette, perfect for mornings as a family. 
"This setting here, talking, seeing the kids, cooking, smelling, hearing their laughter — it's really beautiful, it's a real home," Eklund told AD. "When you say color, sometimes people think of, like, maximum, very crazy. And that's not what we wanted. Everything is soft."
There's also a colorful formal dining room, where chairs in a rainbow of colors surround an iridescent custom dichroic glass top.
The living room embraces the same sense of color while also serving as a cozy spot to curl up as a family. Eklund knew he wanted a color-coded library, illuminated by LED lighting. Next to the oversized couch, one of 15 the couple looked at, is a red side coffee table that belonged to Eklund's beloved grandmother.  "It almost feels like my grandmother is here," he says. "I look at her every day."
Upstairs, a media room serves as a spot for the family to watch kids' movies on the plush blue velvet couch. Also upstairs is the primary bedroom suite, a unique space that embraces 10 different hues of blush and pink. Cloaked in a pink and blue wall covering, which Eklund "instantly fell in love with," the room is completed by a mustard yellow hand-knotted silk rug. It's also home to an abstract painting by Kaplan. The primary bathroom is a luxe oasis filled with gold accents. Eklund had a very specific vision for the space, which features a massive Waterworks tub sitting under the window, as well as a floor pattern that uses six different shades of blush marble.
Both of the 4-year-old twins have their own bedrooms for the first time in this house. (Of course, their beds have trundles for frequent sibling sleepovers.) During the renovation period, Freddy requested a blue closet, and "is obsessed with the color blue." His wallpaper features whales and turtles, while Milla requested a pink one. Each room embraces their favorite color, with ceilings and long flowing drapes that match.
Outside, the home is Eklund's spot for peace and quiet. Backyard olive trees hold woven lanterns over the swimming pool, while a spot for a crackling fire is the ideal entertaining space.  "At night time I'm in heaven under the trees," said Eklund. "In this home, "I feel really zen — I even have a meditation corner." Of course, there's plenty of space for the kids to enjoy — their playscape and clubhouse sit next to the pool.
"We've moved around a lot," Eklund said. "And to actually say it's not about an investment, it doesn't have to be right for anybody else, it just has to be right for us — that gave us freedom."