Mindy Kaling Found Her Interior Designer on Instagram
We independently select these products—if you buy from one of our links, we may earn a commission. All prices were accurate at the time of publishing.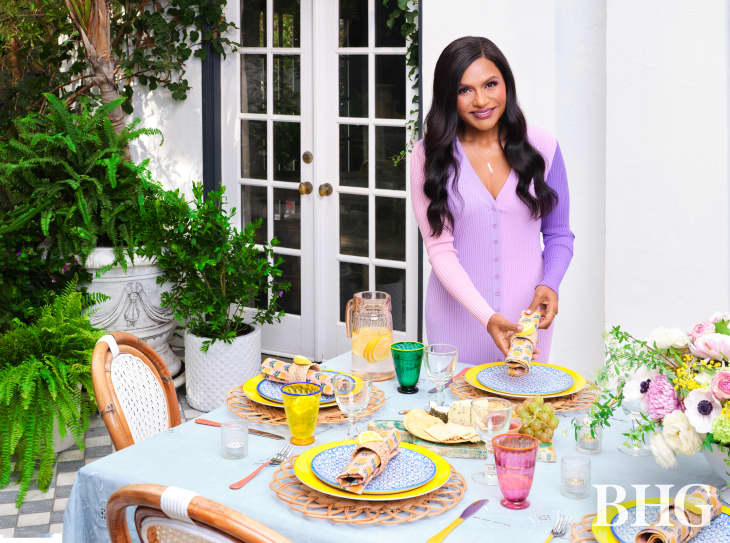 She may be a big-time star, but it turns out Mindy Kaling is just like us when browsing the "explore" page on Instagram. 
The actress, writer, and producer, who graces the cover of the June entertaining issue of Better Homes & Gardens, shared that she first discovered her interior designer, Katie Ridder, on the popular social media app.
Follow Topics for more like this
Follow for more stories like this
Of course, when it comes to the aesthetic Kaling sticks to for her home in the Hancock Park neighborhood of Los Angeles, she says it's mostly centered around her kids. As a single mom raising daughter, Kit, 5, and son, Spencer, 2, Kaling said she doesn't want to live in a home that feels "too precious."
"It's not like my children can't go into any room. There's a lot of piling the nicer things up high. There's not, like, a priceless ottoman on the ground anymore. The truth is that I don't have a priceless anything," she shared. "I refuse to live in a way where I have anything so expensive that if it got stolen or broken, I'd be devastated."
Kaling loves "vibrant, feminine, and colorful" design, and collects table linens and glassware. She found tremendous inspiration in her recent trip to India, which was the first time she had visited in the last 30 years. But for her, the best part is putting that love of color and creativity to work as a hostess. Kaling is a frequent entertainer, whether it's for her former colleagues from The Mindy Project or the other moms from her children's school. 
"I love my home, and as someone who is socially anxious, it surprises me how much I love having a party here. The more I do it, the more I realize I want to do it more," she noted. "Being a hostess and someone who has a door wide-open policy is my dream, where you can run around barefoot, there's tons of food and kids, where things feel beautiful and informal at the same time."
Of course, she does have a few rules. As stated in the digital-exclusive House Rules, Kaling asks everyone to take their shoes off, which she says "won't be surprising because I'm Indian." She hates blasting TV volume, because "Octonauts and Peppa Pig can start to sound a little oppressive. Adults and kids need to be able to coexist, and I can't think if the kids' TV is too loud." And finally, she just wants everyone to take their dish to the sink themselves. "You don't even need to rinse it, just put it in the sink. No one would ever be able to get anything done if we were always picking up after people," she shared. 
Kaling is known for crafting her own versions of recipes on her social media pages and putting her own spin on classic Indian dishes, like a Bengali egg curry or dal. But there's one thing she hasn't quite gotten around to loving yet as a cook: leftovers.
"It's one of my worst qualities," she jokes. "The minute I put it away in the fridge it becomes 90 percent less interesting to me."
The June 2023 issue of Better Homes & Gardens is on newsstands May 19.