Before & After: A Remodeled Berlin Apartment's Now a Minimal, Modern Ode to Architecture
Before & After: A Remodeled Berlin Apartment's Now a Minimal, Modern Ode to Architecture
We
independently
select these products—if you buy from one of our links, we may earn a commission. All prices were accurate at the time of publishing.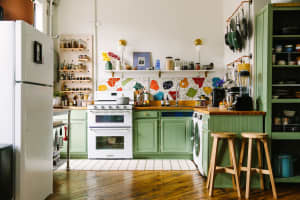 Can't-Miss House Tours Straight to Your Inbox
Keep up with our latest house tours each weekday with our House Tour of the Day newsletter
Melissa Rosenbauer and Thomas Bossert are the husband/wife team behind espanyolet, which they launched in 2015. Initially all about hand-painted textiles, they've recently expanded into interior design consulting… and their own apartment renovation is a great example of their style and skills. The apartment—built in 1906 and having survived both World Wars—had to be gutted and stripped down to the studs in order to save and restore it. They were very hands-on in the process, and they made sure to include custom-made elements so they could modernize the space AND respect its history. The end result is a minimal, neutral-colored home that allows the architecture (like those windows) to shine, but also incorporates the design philosophies they practice in their textile designs.
"We absolutely love our apartment—it's our urban refuge. It was the first apartment we looked at, and when we saw the original double-paned windows, we were hooked," explains Melissa. "Quite possibly the most breathtaking, old detail in our space, these quirky old windows each feature eight glass doors, which means we have a total of 24 window doors in the living room alone! In a world where buyers are getting rid of these old windows and replacing them with more high-tech options, we covet the original wood, leaded glass, and decorative brass knobs of these beautiful windows and sought to preserve them as important historical pieces of our home."
Apartment Therapy Survey:
Our Style: We call our style "New Mediterranean," which is our modern and urban interpretation of "old world heritage." Friends say it's like being on vacation when they step into our apartment.
Inspiration: We are inspired by the Mediterranean: its culture and traditions, its rich colors and textures, its slow living, and its handcrafted goods. With espanyolet and our work as designers, we take these traditions and give them new life. We are inspired by old world materials that feel like they have a story, a history; materials that embrace old world production, a slow process of creation that produces a wonderfully rich texture. We love materials like vintage hemp, plaster walls, and antique fixtures. Our deepest inspiration comes from traditional craftsmanship and the people, places, and things in our lives that have soul.
Favorite Element: What was clear from day one of owning this apartment was that we'd bring a soft and subdued application of our Mediterranean-inspired espanyolet colors into this space, and that ultimately manifested itself in our pigmented micro-cement feature wall. This has turned out to be the centerpiece of the apartment: a soft and cloud-like rosé-colored wall juxtaposed with the history of old Berlin.
The work we did over a few weeks' time to determine which color was best for our hand-troweled patina wall came out of a lot of consideration for what the apartment already had: its northwest-facing windows and the reflection from the red tile roofs across the courtyard. And, of course, the lush chestnut tree outside our windows—how fitting that the name on the pigment we chose was called Chestnut!⁠ We did a series of tests of different concentrations of the chestnut pigment and noticed how dialed up and dialed down, the color consistently had a warm peachy tone with undercurrents of cooler rose. It ended up being the perfect color to bring a glow to the entire space.⁠
Biggest Challenge: The bathroom has been a labor of love in this renovation because we had to move plumbing and walls, tear down the ceiling, and then rebuild the entire space. In the end, we invested the most time and money here. We know from previous home renovations that if you're going to splurge on materials, do it in the smallest room to make the greatest impact. We took this to heart and invested heavily in a custom steel and glass shower and handmade Moroccan tiles.⁠ We'd fallen in love with zellij on a trip to Morocco. Zellij is handmade by artisans who have learned their trade from generations before, and our love for them is their uneven, imperfect, and beautifully blemished surface. Their natural terra cotta color fits the other Mediterranean-inspired touches we were bringing into the apartment. It was a bit difficult to source them, but we felt strongly about using unglazed zellij to keep a raw, matte finish that would feel natural to walk barefoot on.
Proudest DIY: The entire apartment is DIY and we are so proud of the sweat equity we invested into every corner of it! Our largest scale DIY projects: (1) we cut, laid, and grouted every single tile on the bathroom floor and in the shower and (2) we stained and waxed the (newly revealed) original hardwood floors ourselves.
We launched espanyolet with textiles and ceramics, and we loved that experience of having our hands in clay, forming it and firing it. So, it was natural to want to get back into this type of work, so we decided to cut and lay all the bathroom tiles ourselves. In the end, we were super happy with how our work turned out, but it took a lot longer and was a lot messier than we had originally anticipated.
When we bought the apartment, the floor was covered with layers of plastic laminate, as well as the typical "ox blood" painted floor boards. We hired a contractor to get rid of the laminate boards immediately, and he undertook the painstaking work of sanding down the layers of paint. From there, however, we wanted a very specific Scandinavian-inspired stain and we didn't want the wood to be sealed, so we did this work ourselves. In keeping with our love for tactile surfaces—from our vintage hemp to the raw zellij— we wanted the wood to remain in its virgin state: unsealed. After we applied a very watered-down whitewash stain, we added just a thin layer of wax to protect the wood from spills, and as it remains unsealed, it makes walking barefoot such a pleasure.
Biggest Indulgence: Time. Because we wanted to do much of the work ourselves and custom-make many of the apartment's elements, we knew this would take time. We were fortunate to be able to carve out the time we needed to let certain pieces unfold naturally. It was a huge indulgence to have this time to think, create, and make, so elements of our overarching design emerged pretty organically.
Best Advice: Invest in lighting! Install dimmers! We have 14 lamps throughout our small apartment. Mixing and matching hanging ceiling lamps, wall-mounted ones, and stand-alone side table lamps means that we can create a warmly lit little cocoon in any little corner of our home. On a Sunday afternoon when one of us is curled up on the velvet couch, we illuminate the little vintage wall lamps that frame either side of the sofa. Or if we're cooking dinner, we fire up all the overhead lights so we can see what we're adding to the recipe. We love the flexibility—as well as the additional design elements—that our lighting plan affords the small space.
What's your best home secret? Take off your shoes! Your soft wood and raw tile floors will thank you for it!
Thanks, Melissa and Thomas!
More great House Tour reads: