Minimalism Is in For 2022, According to Designers
We
independently
select these products—if you buy from one of our links, we may earn a commission. All prices were accurate at the time of publishing.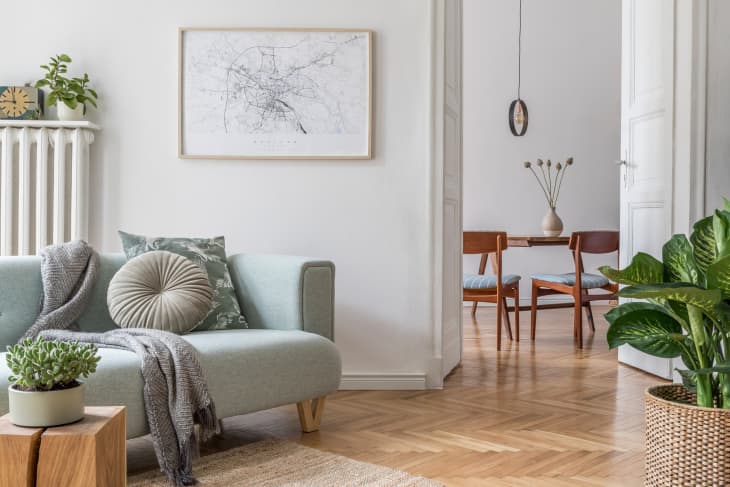 A new year brings new home designs, so if one of your resolutions is to spruce up your space in 2022, take a look at the upcoming trends. Staying in line with new beginnings and fresh starts, one of the overarching trends for the year ahead is going back to basics—think plenty of neutral colors and understated accessories.
Graber's designer, Eden Morrison, predicts that minimalism will be a huge part of 2022 and has revealed her top trends for the upcoming year, sharing tips and tricks on how you can incorporate them into your own home.
"This year's hottest interior design trend is inspired by friluftsliv (literally "free air life"), a Scandinavian concept that's all about enjoying the pleasures of the outdoors year-round. From a design standpoint, friluftsliv means bringing elements of the outdoors into living spaces," says Eden Morrison in a press release. "Where better to start than the window—the threshold between indoors and out? Invite natural light in with sheer or light filtering materials, like Graber's sheer shades and layered shades. Incorporate nature-inspired prints into pillows and window treatments to bring the beauty of nature into the room,"
"It's hip to embrace the outdoors and protect it, too.And that means function is as important as style as you create your space," notes Morrison. "Add texture to the space with renewable natural materials, bringing both visual and tactile interest to a room. Think of the textures that bring you joy outdoors and bring them indoors in window treatments crafted from renewables like bamboo, reeds, grass and jute,"
"Minimalism can enhance the livability of a space – an important factor in this new work-from-home era. Clean lines and open, airy spaces highlight the main purpose of a room. Shades with simple lines and motorized lift create a crisp, modern look. Sheer shades go from sheer and clear to private and serene in seconds, while gently filtering light (and blocking out harmful UV rays) for an airy, luxurious look,"
Keeping safe and healthy is a huge part our of our day-to-day as we live through this turbulent time. As we're still spending more times indoors, a healthy home is a must—both in design and practicality.
"If we've seen anything in 2021, it's a growing desire to stay healthy. This includes purchasing products for the home that are not only on trend, but that are safe for families," says Morrison. She suggests Graber's Lightweaves Solar Shades that are specially engineered to diffuse light while still allowing a view outdoors.
"They deliver a clean, compelling look that protects–without darkening–the room. Additionally, Graber offers both an eco- and family-friendly collection of solar shades designed to help reduce your carbon footprint. Every fabric used on a Graber Eco-Performance Solar Shade is created from recycled or recyclable materials and contains at least one of several other green attributes ranging from PVC- and lead-free to anti-fungal and -microbial properties."