I'm a Hot Sleeper and This Cooling Mattress Is Getting Me Through the Seasons — and It's on Sale!
Apartment Therapy received compensation for this post, which was written and edited independently by our editorial team.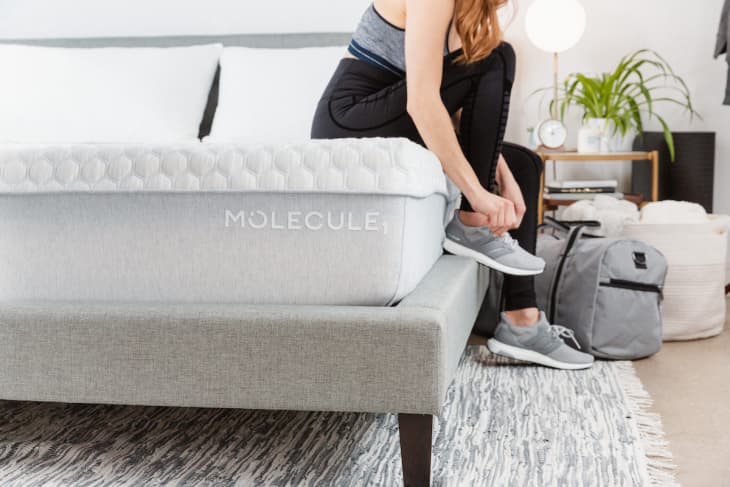 When it comes to the master bedroom of my rental, one of the first things I always talk about is how warm the room can be. It traps heat, which is nice in the winter but not so much in the summertime. I'm a hot sleeper so the combination of body heat and a bedroom that's too hot often has me pushing sheets away in the middle of the night unless I have the right bed essentials, including my mattress. I typically look for mattresses with supreme cooling benefits, such as breathability, temperature regulation, and covers that are soft but keep moisture at bay.  I was given the opportunity to test the Molecule 1 Mattress, which has all those qualities and surprisingly more, and it gave me some of the best sleep I've ever had. Best of all, the mattress gives you luxurious comfort for less than $1000!
Follow Topics for more like this
Follow for more stories like this
If you live in a small space or upstairs apartment (like me), you will love the Molecule 1 Mattress. It comes in a box, but when you open that box, the mattress is folded and rolled into a size that could fit into the backseat of a car. It's also surprisingly light for a mattress. I was able to have one person carry it for me from the door to the bedroom. I offered to help, but they didn't need me! The mattress is one of the easiest I've ever unpacked. It's wrapped in plastic and vacuum-sealed, so once you unwrap it enough to unroll, you unfold the flattened mattress and spread it out on your bed frame, and then free it from the vacuum seal for it to fully expand. In total, the mattress took maybe 10-15 minutes to set up. 
As the mattress expanded, I could already get a feel for its cushion-y goodness. The Molecule 1 has four layers of comfort, starting with its antimicrobial Microban cover that helps to regulate temperature and protect the mattress from odors and stains. The cozy RestoreFlo follows as a breathable foam layer that allows air flow and provides pressure relief that's immediately apparent as you press down on it. Beneath that is the RecoveryFlo layer that builds in self-adjusting support targets different areas of the body, so you're comfortably cradled and not waking up with aches and pains. Lastly, is the mattress's 7" base layer, CounterFlo, which provides foundational support that benefits your back and additional air flow and heat transferability. It keeps the mattress at an ideal temperature so you don't overheat. The many cooling properties of the Molecule 1 mattress were a feature I found particularly refreshing as a hot sleeper who relies on moisture-wicking bedding that keeps me comfortable all night. 
When it comes to mattresses, plushness matters. I like my mattresses to feel soft but not so soft that I'm sinking into them without much support. The Molecule 1 Mattress is on the firmer side but it's wonderfully cushioned, so you get an optimal combination of plushness and support all at the same time. I couldn't believe how well I slept on it. I didn't want to get out of bed the next morning!
I tried the Molecule 1, but if you're a fan of pillowy mattresses, the Molecule 2 AirTEC Mattress could be the right pick for you. It has an advanced version of the antimicrobial Microban cover that maximizes airflow and prevents odors, stains, and mildew. It also has an extra-plush quilted top that you'll want to snuggle into as you fall asleep at night. Another feature that differentiates it from the Molecule 1 is the crystal-infused BioCharge layer that assists with circulation, oxygen consumption, and cell function. Finally, the innovative and durable AirTEC foam layer of the mattress takes the breathability to another level for cool and restful sleep.
The Molecule 1, Molecule 2 , and Molecule Hybrid mattresses are all on sale — for up to $300 off, up to $500 off, and up to $700 off, respectively — as part of Molecule's First Days of Fall Sale. Use the code FALLSALE at checkout to get $125 off orders of $500+, $300 off orders of $1,000+, $500 off orders of $1,500+, and $700 off orders of $2,000+. Additionally, with the purchase of any mattress you'll also receive two free pillows (an $118 value) to have all the basic pieces of your bed ready to go! With so much on sale, you can give your bedroom a total makeover. Sweet dreams!