My Mom's Magic Routine Saved Me From My Biggest Laundry Catastrophe
We
independently
select these products—if you buy from one of our links, we may earn a commission. All prices were accurate at the time of publishing.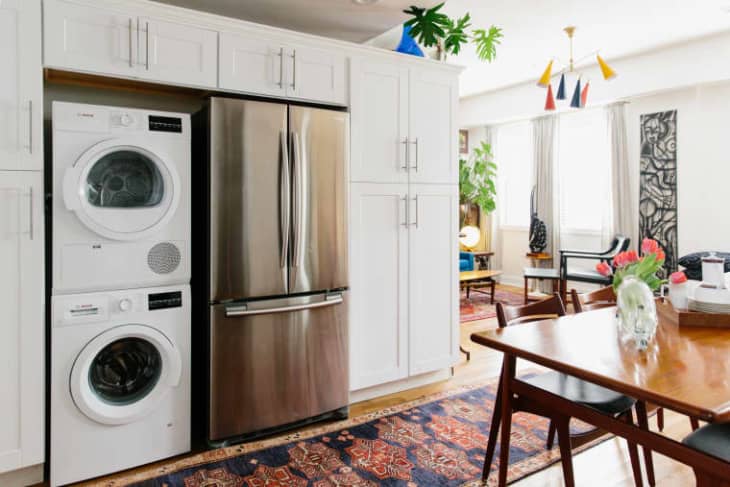 My mom has always been really good at laundry. As a kid, I remember how our little laundry room was always a laboratory of stain removal — something soaking in cold water here, something else soaking up a "magic" as-seen-on-TV product there.
Fast forward a few decades, and now that I'm a parent myself, I've had to seriously level up my laundry game — I've called my mom to ask how to deal with everything from smeared raspberries on pajamas to vomit stains on the rug (welcome to motherhood, eh?). She always knows the answer. But a few months ago, I had one of my most panic-inducing laundry episodes ever.
Let me back up for a second. My daughter has tons of beautiful hand-me-downs from generous family, friends, and neighbors, and anything I do buy tends to be on super-sale. There's nothing like that first year of growth spurts to psych you out of investing heavily in baby clothes… and nothing like the second year of learning how to eat, run, and play that affirms this choice. But I spotted a beautiful lightly-used designer dress in a Facebook Buy/Sell/Trade group that I just couldn't resist. Even with a slightly-negotiated price, it was still splurgey. I figured I'd have to identify the perfect moment where she's indoors, not eating, and not drinking to wear it (OK, maybe that means she can wear it for… a photo or two).
But it turns out, my toddler wasn't the one to create the laundry emergency — I was. I washed the sweet little dress in warm water when I received it from its previous owner (in Hawaii!), and the dark red hearts bled all over the place. I was horrified when I took it out, and figured I was going to have to eat the entire price. I called my mom as a last-ditch effort, and here's the recipe she gave me for revival:
One day later, the dress looked like new! My mom suggested that I keep using the color catcher sheets with any of her deeply-pigmented clothes, especially the first time I watch them. And since then, I haven't had a dye bleed since.