A Fashion Stylist's Brooklyn Abode Is Luxuriously Romantic
We independently select these products—if you buy from one of our links, we may earn a commission. All prices were accurate at the time of publishing.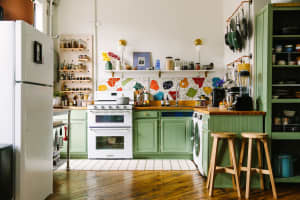 Can't-Miss House Tours Straight to Your Inbox
Keep up with our latest house tours each weekday with our House Tour of the Day newsletter
Name: Monique Vatine
Location: Williamsburg — Brooklyn NY
Years Lived in: 1.5 years, renting
Freelance fashion stylist Monique Vatine likes visual and tactile moments in fashion and decor. Her one-bedroom Williamsburg rental apartment has a distinct boho chic aesthetic, punctuated by a great use of prints, patterns, and color. And lots of plants.
Her home is certainly inspiring to those interested in a (slightly) minimal, vintage, boho look, but it's also motivating for those on a budget. Monique cites that it takes patience to wait for the right pieces, and splurging on a few pieces you really love can make a big impact. She admits that some money-saving attempts—like installing wallpaper herself—didn't perhaps produce the most ideal results. But other DIY ways to pinch pennies, liking swapping out old art from vintage frames, have helped her craft a personal home that matches her taste.
Apartment Therapy Survey:
My Style: Mid-century Miami that made a stop in California and picked up some heavy textures on the way. I also have a luxurious romantic side. I love curves and old details of antique furniture. More textures and details… the better! It brings curiosity to the room. Engages the eye and invites you in for a closer look. Creates a moment. I like moments.
Inspiration: 1970s – 1980s Mid-century/Modernism. Parisian flats, the Secret Garden mixed with some royal flair of French Louis XV pieces. I dream of late 1970s to 1980s tropical summer homes. The Miller house by Eero Saarinen. Milo Baughman pieces and Terence Conran's approach with plants more so in the '70s and '80s.
Favorite Element: My plants. I am a proud plant parent. They totally create the ambiance. Feels like I am in my own serene paradise. I love the process of transforming a room into a plant haven. My babies bring me such joy and illuminate my home with calmness.
Biggest Challenge: Finding thrifty ways to decorate the apartment without compromising my taste for detail. For the living room it was having patience in finding items that blend in a subtle, monochromatic way. Trying to achieve this without making it look like a contrived photo shoot and keeping the aesthetic consistent. I try my best to keep it very authentic to my taste. For the bedroom, it was not becoming a crazy clutter tchotchke lady. Which I may have slipped a bit on that. Whoops.
What Friends Say: Truth be told, I get the same reply. The door opens and they say "Whoa." Then after settling in a bit I get "feels so calming in here." I'll take the compliment. Thanks friends.
Biggest Embarrassment: To be honest, my bathroom. I have neglected that room and it needs much transformation. Kitchen needs a lil' bit of love, too. I think it's all the outdated no-idea-what-era tiles. That bothers me the most. I can't actually tell which tiles are worse, it's a tie between the two rooms. In due time I will paint it all over for a nice revamp.
Proudest DIY: The dining room wallpaper. I learned it's a two-person job the hard way. I attempted it by myself one extremely long night. You can see which exact strip I did alone.
Also finding affordable vintage frames. I have to take them apart to switch out old art, create a matte border, and place my art inside. Tedious and time consuming, but worth saving the bucks.
Biggest Indulgence: My chic sectional sofa and Milo Baughman table. Both were worthy investments. I loveeee my practical sectional. It's perfect to host, sleep, and meditate on during the day. The textures and the copper legs make it so svelte and chic. And my dining room table is just one big art piece. It's bold yet has a playful aesthetic without making it too sterile. Reminds me of a piece of art you would see in an exhibit.
Best Advice: You can make it all happen! I am a huge fan of manifestation. I create 8 x 11 mood boards. Print them out and place them on walls of each room. Keeps me aligned with my vision. Before you know it, you start finding items all around town. I also do not keep my vision restricted. If a piece calls out at you, go for it. I select pieces that move and inspire me. If it gets you excited, jump on it. I also tend to use the saying…when in doubt, go without.
Dream Sources: Those upscale vintage stores in Palm Springs. Some printed items from Block Shop Textiles. Larger plants with huge ceramic pot plants from Sprout Home Nursery. Pieces from White on White Store and Milo Baughman anything! A dream gold canopy bed by Kathy Kuo please thank you.
LIVING ROOM
Sofa — Organic Modernism
Large Throw Pillow — Century 21
Long Throw Pillow — TJ Maxx
Shorter Pillow — West Elm
Coffee Table — Craigslist
White Sculpture — World Cost Plus Market
Brass Vase – Goodwill purchase
Circular Vase and White Vase – CB2
Ceramic Spotted Vase – West Elm
Brass Magazine Rack/Plant Stand – Goodwill purchase
All Art Work – Etsy, PapillonValuePrints
Frames – Housing Works Thrift Shop
Large Circular Mirror – Vintage find
Trio Brass Plant Holder — West Elm
Large Brass Plant Pot — TJ Maxx
Circular Plant Stand — Dobbin St Co-op Market
White Pillar Stand – Dobbin St Co-op Market
Lamps – Goodwill purchase
Macramé Plant Hangers – Dobbin St Co-op Market
Carpet – AllModern.com
Side Leather Table – Side street find
DINING ROOM
Artwork on Wall paper — Etsy, AntiqueBells
Artwork on White Wall – Desert Island Shop
Artwork on Floor – Etsy Shop, VIPosterArt
Dining Room Table — Craigslist
Throw Pillow — Cost Plus World Market
Wallpaper — Lowes
Wall Tapestry — Urban Outfitters home
White Cabinet — CB2
Brass Candle Holders — Beacon Flea Market
Small Art Print — Fairfax Melrose Flea Market
Dining Room Chairs — Craigslist
Tall Vase — CB2
Coasters — TJ Maxx
Floor Lamp — Craigslist
KITCHEN
Artwork — Goodwill
All Items On Top of Cabinet – Goodwill purchase
Throw Rugs — TJ Maxx and IKEA
Ceramic Utensil Holder — TJ Maxx
White Ceramic Bowls — Target
BEDROOM
Headboard — Craigslist
Throw Blankets — Stella Dallas
Duvet Cover — West Elm
Yellow Throw Pillows — West Elm
Small White Pillows — Textile Store in Barcelona
Stripe Pillows — TJ Maxx
Lamp – Goodwill purchase
End Tables — CB2
Ceramic art Pieces on end Table — Senior Citizen Center Shop
Glass Vase — Goodwill
Large Black Dresser — Craigslist
Japanese Ceramic Vases — West Elm
Large Gold Mirrors – Goodwill purchase
Small Gold Mirror — Craigslist
Gold Frames — TJ Maxx
Large Wall Print — Etsy, PapillonValuePrints
Floating Shelf — CB2
Pink Ceramic Vases — West Elm
Clear Vase — Amazon
Brass Floral Wall Piece — Side Street Find
Hanging Brass Frame — Urban Outfitters
Tiny Floral Metal Wall Piece — Flea market in Lisbon
Silver Storage Drawer — TJ Maxx
Yellow Step Stool – Goodwill purchase
Brass Candle Wall — Beacon NY Flea market
All Wall Frames — Thrift Store Finds
Vanity Desk — Craigslist
Vanity Chair — Craigslist
Ceramic Rose —Vintage Shop in Madrid
Blue and White Ceramic Vases — West Elm
Ceramic Floral — Dobbin St Co-op Market
Curtain Rods and Drapes — Urban Outfitters