You Won't Find Any IKEA in This Industrial Montreal Loft
We independently select these products—if you buy from one of our links, we may earn a commission. All prices were accurate at the time of publishing.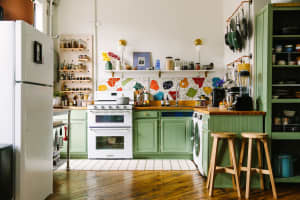 Can't-Miss House Tours Straight to Your Inbox
Keep up with our latest house tours each weekday with our House Tour of the Day newsletter
Name: Maggie Williams
Location: St-Henri, Montreal
Size: 1,500 square feet
Years lived in: Rented 1 year
Maggie's old converted Montreal loft is visually striking and incredibly spacious, but in the wrong hands, its industrial elements could dominate. Thankfully, Maggie's always loved thrifting and finding beauty in other people's discarded items. She hunts for unwanted furniture pieces, repairing and refinishing them. And she also loves concrete as a medium; as the co-founder of Kobo Concrete (the other co-founder is the lovely human, Marc-André Alarie), she builds concrete furniture and concrete goods in her spare time. The loft's architecture coupled with Maggie's simple, tasteful style mix to make a warm, modern, and industrial home.
"It's a very eclectic, interesting place, that continues to intrigue me."
Originally from Victoria, British Columbia, Maggie works during the week as a behavioral therapist for children with autism, and shares her loft with her dog Truman—who loves sunbathing in the light that floods the loft each morning. Maggie also lucked out with her neighborhood. She's partial to the rough, industrial exterior of her loft's building, and realized upon moving to this area that the neighborhood is littered with helpful business. It has a community feel.
Apartment Therapy Survey:
My Style: Bohemian-Nature-Industrial-Chic? I find that term has a pretentious air to it but I'm not sure how else to describe it. I love the warmth in wood and adore plants and the life they bring to a space. Also, old and industrial. I love antiques.
Inspiration: Other peoples' trash. I am inspired by the beauty that can be found where other people don't necessarily see it. I love the hunt, finding unique, eclectic pieces on a budget, bringing them together to create an entire look. I am not deterred by damaged or stained furniture, repairing and refurnishing them myself. I like things with character and have never been a fan of perfectly matching, predictable arrangements. No IKEA!
Favorite Element: I believe I got very lucky with this space. The loft alone has such character. Climbing up on the mezzanines makes me feel like a kid. I dangle my feet off the side just because I can. They are my favorite element even though I've smoked my head on the beams a few times. It's worth it.
Biggest Challenge: The largest challenge was getting the futon frame and mattress up the steep ladder onto the mezzanine by myself. I saw my life flash before my eyes a few times.
What Friends Say: "Woah." I love having people come over and sharing the space. It's a fun place to just be in and I find they don't usually want to leave. That's why I have a guest mezzanine.
Biggest Embarrassment: Luckily no one saw, but the futon frame came crashing down into the kitchen as I was struggling to get it onto the mezzanine, with me hanging from the ladder, cursing wildly. Wasn't my finest moment.
Proudest DIY: The small wooden and concrete side table was the very first table I made. I started a small concrete furniture company with a partner a few years ago called Kobo Concrete, so all the concrete pieces seen here are handmade. We have since made and sold many pieces but I keep that one as a proud reminder of the learning process.
Biggest Indulgence: New bed sheets? Somehow, everything seen here was found curbside and refinished, handmade, or second-hand for less than $50. I did upgrade recently from a hot plate to an old stove. That's pretty fancy.
Best Advice: Take your time creating a space. I find many people want to do a one-stop-shop, hurrying the process, spending too much money and creating an unauthentic look.
Dream Sources: I actually didn't buy any pieces from a store. Everything was hunted second-hand, found, or handmade. I check Craigslist, and kijiji often, and pop into thrift stores whenever I have a spare minute. I'm also partial to my Kobo Concrete pieces.
Concrete Lamp; Kitchen Island; Lion Handle Dresser with Concrete Top; Concrete Side Table; Concrete Clock; Concrete Candle Holders; Fruit Bowl; Succulent Planters; Two-level Sofa Table; Macrame — Kobo Concrete
Lamps; Wooden Stools; Metal Filing Cabinet; Small Red Chest; Stove; White Dresser; Wood Crate; Mirrors; Armoire; Curbside; Teak Dresser; Metal, Industrial Shelves — Kijiji/Craigslist/thrifted
The beautiful wood dining table and couch came from a generous friend, Sarah-Jeanne Labrosse
Traditional tattoo painting, a gift from a very talented friend who has also gifted me a few tattoos, Louis Thibault
The steel and wood closet under the mezzanine — Maggie made it