These Are the Most Pet-Friendly Airlines in 2022
We
independently
select these products—if you buy from one of our links, we may earn a commission. All prices were accurate at the time of publishing.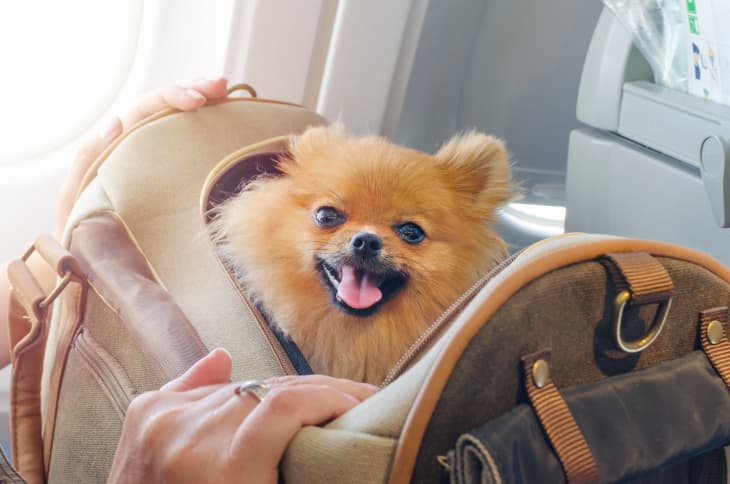 Flying during the holidays is stressful enough, but doing so with a pet can make things even more complicated. If you do choose to travel with your furry friend, it's important to make sure your airline of choice is committed to keeping them as safe and happy as possible during the journey. 
To help pet parents breathe a little easier about future trips, Airport Parking Reservations compiled a report of the most pet-friendly airlines, analyzing factors like costs of pet transport and the range of pets allowed onboard.
First place goes to Turkish Airlines, which received a 7.13 pet travel score out of 10. The company allows dogs, cats, ferrets, and small singing birds onboard for the reasonable price range of $8.15 to $24.26. But there's a catch: Pets that can't fit into a 23 x 30 x 40 pet carrier have to travel in cargo.
In second place is the Japanese airline All Nippon Airways, which received a pet travel score of 5.87. Although only one pet per passenger is allowed on All Nippon flights, a whopping nine species are allowed on board. The airline also has a massive international network that extends to major countries like the United States, Canada, Mexico, China, and Korea.
Third place goes to Spirit Airlines, which received a pet travel score of 5.63. You can bring cats, dogs, rabbits, and birds with you for $125 per pet. A bonus: You can bring up to two pets per passenger, as long as there's room on your flight.
Check out Airport Parking Reservations' full list of the top 10 most-pet-friendly airlines below.
Turkish Airlines
All Nippon Airways
Spirit Airlines
Sichuan Airlines
Japan Airlines
China Eastern Airlines
Emirates
Air China
Alaska Airlines
Southwest Airlines
You can read the full study here.