These Are the U.S. Cities with the Most Pothole Complaints
We
independently
select these products—if you buy from one of our links, we may earn a commission. All prices were accurate at the time of publishing.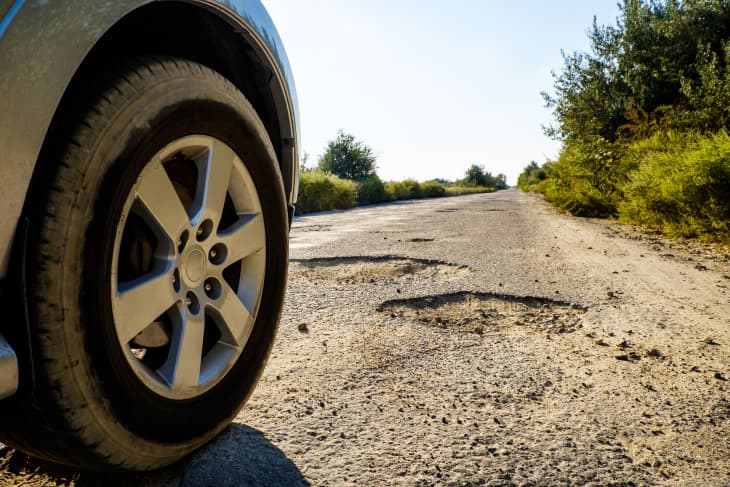 Potholes are a nightmare for drivers. Although you might not think it, each time your car survives a run-in with one of these dreaded holes in the road, your tyres take another beating. With every thud, there's a little more damage being done, weakening the rubber until eventually, the tyres will need replacing—and the price adds up.
If you spot a pothole, the best thing to do is to report it to your local city, county, or Department of Transportation. But while waiting for a response, many people take to social media to air their frustrations with the state of the roads.
The Clunker Junker looked at which cities in the U.S. has the most prevalent pothole problems by analyzing a series of Twitter data.
Coming out on top and earning itself the title of America's pothole capital is Atlanta, Georgia, with the data showing 529.1 yearly pothole complaint tweets per 1,000km of road. There's even a dedicated account for Atlanta potholes, albeit rarely used. Taking the silver medal is Washington, D.C., with 451.4 pothole complaints voiced on Twitter per year. St. Louis, Missouri, comes in at third place with 385.2 complaints, while New Orleans, Louisiana follows closely behind with 324.4 Twitter complaints over 12 months.
As for those cities with a smoother road surface (or that just have a fewer number of people with a Twitter account) Chesapeake, Virginia came out on top with just 3.8 yearly pothole complaints per 1,000km of road. Following closely behind in the backseat is Laredo, Texas, with 4.6 complaints, and Boise, Idaho, also with 4.6 Tweets per 1,000km of road.
How does this data compare to your own city? Let us know in the comments below!
More car content from Apartment Therapy below: