7 Terms You Need To Know Before Signing a Moving Contract
We independently select these products—if you buy from one of our links, we may earn a commission. All prices were accurate at the time of publishing.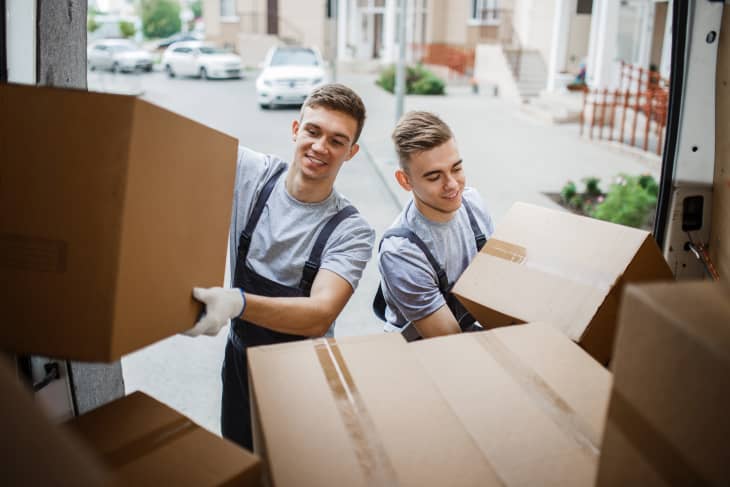 There's a whole lotta moving going on right now. It's easy to get caught up in the hubbub of the move and gloss over the moving contract, or just go with the first company you find on the internet. Arming yourself with a little moving knowledge can protect your stuff and save you money.
If you're moving across state lines, here are a few industry terms to know before signing that moving contract:
Contrary to how it sounds, you are considered the shipper in a move, and the moving company is considered the carrier. These terms will be on any paperwork you need to sign, so it's good to know the difference if there's a problem later.
This is the binding document that lists the items you are moving and serves as the actual moving contract. You will be asked to sign this document at the beginning and the end of your move to determine ownership and to acknowledge delivery.
Moving Broker vs. Moving Company
If you're looking for a mover online, you will likely have to wade through a lot of links to moving companies — but are they legitimate? You might unknowingly end up clicking a link for a moving broker rather than a moving company. A moving broker, while a legitimate service, contacts moving companies for you and requires a fee up front. You can save that fee by contacting the moving company directly.  
Binding, Non-Binding, or Not-to-Exceed Moving Estimates
Interstate moving costs are mainly based on the weight of your goods and the distance traveled.  Once an interstate moving company representative comes to your home (or does a virtual moving survey), you will be provided with an estimate based on those factors, among others.  
There are three types of estimates:
A binding estimate means that you as the shipper will pay exactly what is on the estimate, even if the weight of your shipment is lower than on the estimate.
A non-binding estimate means that your final costs can vary from what is estimated, based upon the actual weight of the shipment.  This makes it harder to budget, but an experienced moving representative should provide a fairly accurate estimate.
Not-to-exceed estimates are a popular option that means that you will pay only what is agreed to after the estimate is performed, even if the shipment weighs more.  You will also pay less if the shipment weighs less than is on the estimate. One critical drawback to know is that the contract can be voided if you decide to add items to the shipment once the quote was provided to you and the contract is signed.
While moving companies can't technically sell insurance, they can provide what they call
"valuation protection" for your goods. There are two types of valuation coverage: released value protection (which is no cost to you) and full value protection, for which you pay a set amount based on the value and weight of your goods.  
According to David Valencia, a moving representative with North American Van Lines, "Understanding valuation coverage is very important because if the customer chooses released value protection (which covers just 60 cents per pound per item), it's almost like having no coverage at all." To look at it another way, imagine being paid just $6 for a 10-pound jewelry box that gets lost. Be sure to ask your moving representative to fully explain each type to you before agreeing to the move to avoid unpleasant surprises later.