What It's Like to Move During the Coronavirus Pandemic, According to Someone Who Did
We independently select these products—if you buy from one of our links, we may earn a commission. All prices were accurate at the time of publishing.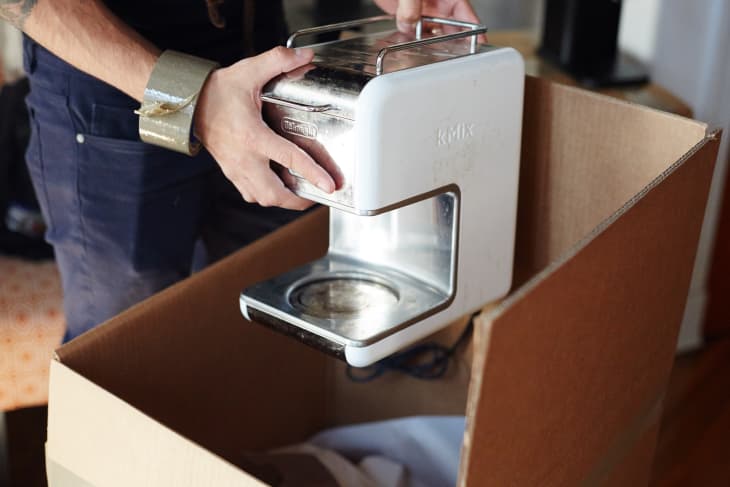 As much of the country continues to shelter in place, some people are facing a big question right now: What if my shelter has to change? I faced this problem myself at the end of March when my lease in Milwaukee was up. I didn't have the option to simply stay in my apartment—someone else was moving in. Luckily for me, movers are considered an essential service in both Milwaukee and Chicago right now, so my move to the Windy City went along as planned.
It was a struggle, though. Moving during a global pandemic is downright scary. Not just because of the ethical questions (Is it wrong to move right now?) and the burden of guilt (I was worried my new neighbors would pre-hate me because I moved into a new building when everyone should Just. Stay. Inside.). but also because of fear. There's no way of knowing if your real estate agent, landlord, fellow tenants, or even your movers could possibly infect you. And vice versa.
Follow Topics for more like this
Follow for more stories like this
Health is everyone's number one priority, of course. And for buyers and renters right now, precautions come in the form of specialized showings and video tours.
"I've seen an increase in agents advertising their ability to do video tours," explains Jorge L. Guerra, Jr., founder of Real Estate Sales Force in Florida. "A lot of agents are buying 360-degree cameras. Others are using cellphones. Some agents are doing tours on social media. Now more than ever, agents really appreciate they don't have to be out there exposing themselves as much."
Does that mean people are actually moving in based on video alone? No, Guerra says.
"The amount of people purchasing [or renting] a home based on videos alone is less than one percent," he says. "The majority want to go out and feel the house. We do everything we can to limit contact. My goal is to create an environment where someone can go into a house and do a tour with their hands in their pockets. We open all the doors and cabinets. We ask the owners and anyone else in the house to exit during the showing, and everyone wears gloves and masks."
If you ask me, that kind vigilance should be maintained during an actual move. I was pleased to see everyone in my new building sanitizing handrails and keeping their distance. My movers, on the other hand, were not quite so prepared or sanitary… and I'm pretty sure one of them was sick.
"We've essentially changed the entire process," says Danielle Rankin, Gentle Giant's marketing director. "We're trying to be as flexible and as safe as possible."
That means having customers either leave their home completely during the move, or confine themselves to one room and communicate with the movers by phone, text, or video call. Customers are also asked to provide soap and water at each home so movers can wash their hands. That's in addition to the gloves, masks, disinfectant, and sanitizer Gentle Giant provides to its staff. 
Before and after each move, the trucks and floor pads are sanitized, and disposable paper floor pads are used as available. Plus, everything is now contactless and digital. No handshakes when greeting each other, and customers don't have to physically sign anything after the move—the movers do a verbal "signature" and email the contract after the fact.
When all is said and done, there's also the risk of the virus living on the surfaces of your things. Since it can live on different kinds of surfaces for different periods of time, it's tricky to know when your stuff is safe to be moved inside your new home. Lindsay Howe Ruth, who moved from New York City to Austin in March, had to deal with just that—among a host of other issues.
She and her husband first flew down to Austin in early March so her husband could start a new job. She intended to go back to New York mid-month to pack everything up and work with the movers. But due to safety reasons (Ruth is currently pregnant) and shelter-in-place measures, she was unable to return.
"When we left New York, it wasn't with the intention to never see our apartment again," Ruth says. "We had two friends we FedExed keys to go over and let the packers in on day one and let the movers in on day two. They had to oversee our move, video chatting with us to see what got packed, donated, or thrown away. Talk about not your ideal scenario of packing up your life and moving across the country—all via FaceTime. It's a horrible feeling to have to trust strangers in your home without you. Our friends saved us."
As for their belongings, once the truck arrived, Ruth and her husband unloaded everything into the garage and let the boxes sit for a few days to make sure the virus couldn't survive on anything.
"If there was any shade of anything on our stuff, we wanted to make sure it was gone," Ruth says.
It's an unprecedented way of moving for an unprecedented time—but in order to stay safe during everyday activities, we have to get creative.