This Instagram Account Pays Homage to the Great Nancy Meyers Interiors
We
independently
select these products—if you buy from one of our links, we may earn a commission. All prices were accurate at the time of publishing.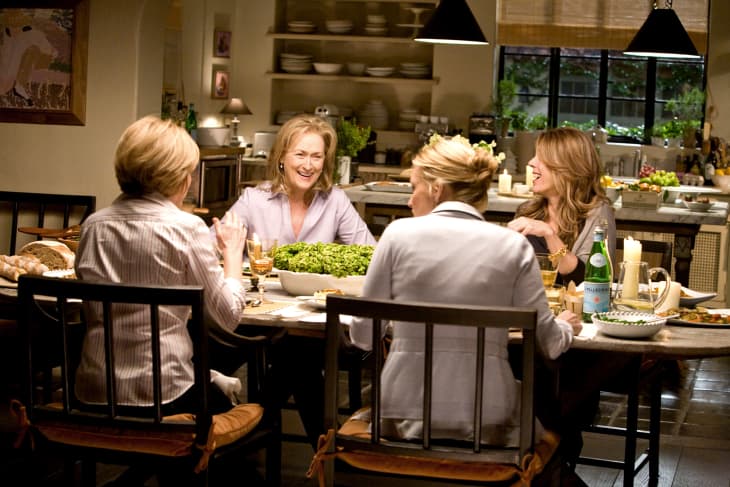 When it comes to impeccable set design, few filmmakers know how to capture a vibe quite like Nancy Meyers, who has admitted that her signature set design "sometimes" overshadows her work "a little bit." (No kidding!) If you're forever dreaming about Meyers' aspirational designs — including her stunning fictional film kitchens, lush bedrooms, and amazingly timeless living rooms — look no further than the Nancy Meyers Interiors Instagram account, which pays homage to Meyers' many stylish contributions to films over the years.
With snapshots from Meyers' most iconic films (including "It's Complicated," "Something's Gotta Give," "The Holiday," "The Parent Trap," "Baby Boom," "Father of the Bride," and more), the account follows only one person, and it's Meyers herself. Run by an anonymous fan, the account chronicles interior and exterior sets from her films from the 1980s to present day, proving that her work never goes out of style no matter how many decades pass. While some films look inherently dated with time, Meyers' set design looks right at home in any timeline — and that's what fans love most.https://www.instagram.com/p/CDlz77nJ3AH/
So if your Instagram feed is in dire need of a little bit of whimsy and a whole lot of design inspiration, look no further than this genius account. Of course, it's understandable if you don't quite have your very own beach house à la Diane Keaton's Erica Barry in "Something's Gotta Give," but you can take cues from her plush light blue couches and anything-but-boring beige accessories. Or you can create an Amanda Woods-inspired home office from "The Holiday" by way of luxe green curtains and a chic wood plank desk.
Sadly, you'd be on your own to find a cute love interest that looks like Jude Law or makes you laugh like Steve Martin, but you can always dare to dream.