Nathan's Heritage Modern Chicago Loft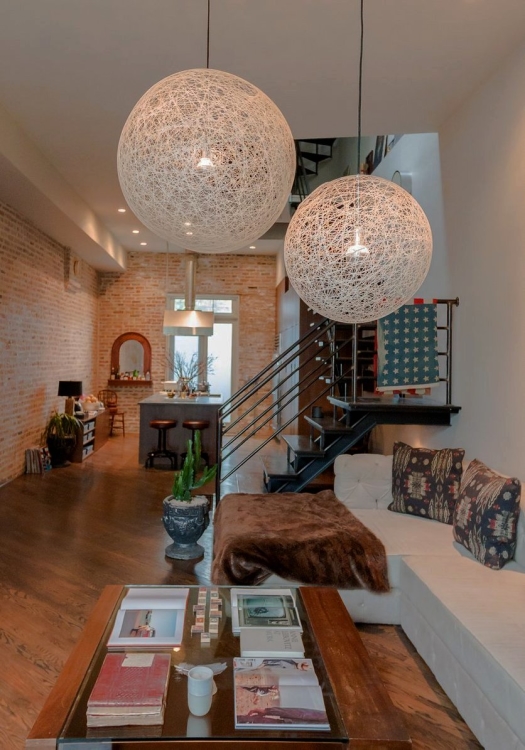 (Image credit: Julia Brenner)
Name: Nathan Michael
Location: Chicago, Wicker Park, IL
Size: 2,250 square feet
Years lived in: 1 years; Rented
Years hosting on Airbnb: Going on 1 year
Situated on a quiet, tree-lined street in Chicago's historic Ukrainian Village is Nathan's bright and beautiful three-story home. On first entering his home, I was struck by the bold architectural elements (check out that staircase!) and gorgeous interior. Nathan is a native Texan and his southwestern roots shine through in his relaxed and welcoming décor and his warm mix of earth tones and rustic vintage treasures.
(Image credit: Nathan Michael)
Nathan has only been a host on Airbnb for a little under a year, but he's already welcomed more than 70 guests in his home! As a photographer & designer living solo in his heritage modern loft, he knew that he wanted to cultivate a comfortable home that could both inspire his work and reflect his passion for eclectic culture and traveling. With a suggestion from a friend who had successfully hosted before, Nathan gave hosting on Airbnb a try and hasn't stopped welcoming in new company since.
Nathan designed his home as the perfect Chicago retreat, equipped with a rainforest shower head, working fireplace, 2 person soaking tub & even a sauna stocked with fresh robes & towels. Since his room is upstairs, he found that he could be out of his guests' way to let them privately enjoy the downstairs. Nathan loves seeing new cities through his lens, so he's planning to start traveling more as an Airbnb guest, and sharing his whole apartment while he's away.
(Image credit: Nathan Michael)
Apartment Therapy & Airbnb Survey:
My Style: Eclectic
Inspiration: The Yesteryears
How/why did you decide to host on Airbnb? My buddy had been renting out his space for a few months & I heard great things on how the company works. I figured what did I have to lose in trying it out?
Please express any fears or concerns that you may have overcome in the process! I personally didn't have any overwhelming fears or concerns. I was more curious to see if Airbnb would actually work if I put the time & effort into creating an enjoyable experience. It has surpassed my expectations.
Do you rent out a shared room, private room, or your entire home/apartment? I rent out a private room. But since there are two floors between both living areas, the space feels completely private.
Favorite Element: The guests I share my space with.
Biggest Challenge: Making a large space feel cozy.
Proudest DIY: Turning an old bass drum into a coffee table. I flipped it on its side & had a custom piece of glass made for the top of it.
How long have you been hosting? Going on one year
How many guest stays have you had as a host? 70
What is your hosting style? It really depends on the personality of the guest & my schedule. I love meeting up & sharing a drink with guests when possible. For the most part, I'm typically out & about with work, but make myself available for whatever the guest needs.
Would you recommend others to host with Airbnb? Absolutely. It's a great way to supplement the cost of living & meet new, interesting people.
What has been the most surprising thing about being an Airbnb host? How friendly & enjoyable the guests are who rent the space. Everyone has an interesting story if you're willing to take time & listen.
Biggest Indulgence: Custom Frames. I've spend more on good framing than most of my furniture.
Best Advice: Don't feel like you need to transform your space overnight. The best part is finding pieces of furniture / objects that you really love & give your space unique style / character with time.
Dream Sources: Convoy :: TRNK :: Roman & Williams
To learn more about hosting on Airbnb visit airbnb.com/host
Resources
PAINT & COLORS
Benjamin Moore
(Image credit: Nathan Michael)
LIVING ROOM
Horse Bookends: Roost Chicago
Oil Lanterns: Vintage Shop
Framed Collection of Vintage Stamps - Family Heirloom
Vintage Sansui Speakers: Saturday Audio Exchange
Chest: Brimfield
Lamp: Vintage Shop
Hanging Lights: DWR
Vintage Oil Painting: Family Heirloom
Bird Painting: Bill Samios
(Image credit: Nathan Michael)
KITCHEN
Ted Harris Lamp: Scout
Desk Notes: Greer
Mirror: Vintage Shop
Mast Brothers: Cookbook
Perimeter Brass Tray: Unison
Pine Orange Bitters Soap: Tatine
Branches: A New Leaf
Coffee Maker: Hario V60
Skeppshult Cast Iron Spice Grinder: March
Matte White Dutch Oven: Le Creuset
Graphite Grey Cocotte: Staub
Cast Iron Skillet: Finex
(Image credit: Nathan Michael)
BEDROOM
Antique Silver Frames: West Elm
Havana Photo Storage Boxes: Kolo
Shelved Objects: Random Vintage Shops
(Image credit: Nathan Michael)
BATHROOM
Print of Scanned Seaweed: Anthropologie
Pine Orange Bitters Soap: Tatine
ENTRY
Vintage Filing Cabinet :: Scout
Vintage Cross-Stitched Horse + Horse Shoe: Jayson's Home
Vintage Bottles: Brimfield
Vintage Tiki Pole: Antique Shop in Texas
White Candles: Ikea
(Image credit: Julia Brenner)
OFFICE
Ernest the Raccoon: Asrai Garden
Flatiron Desk: Restoration Hardware
Lucky Star Tablet: Greer
Calendar Pad: Russell + Hazel
Chairs: Vintage Shop
Bass Drum Table: Owned and DIY
Follow Apartment Therapy's board House Tours Apartment Therapy on Pinterest.
Updated daily with fresh tours full of photos for you to pin & enjoy!
Thanks, Nathan!
This post was originally published on 7/16/15 and has been updated to include Nathan's own photos.