Neil & Eddie's Amazing Adaptive Reuse Loft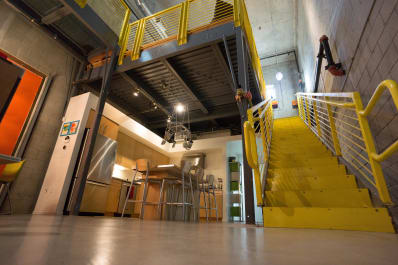 (Image credit: Submitted by Neil)
Name: Neil & Eddie
Location: Long Beach, California
Here's a story of loft life from readers in California - complete with soaring ceilings and streamlined modern industrial style in a reimagined retail space. Take it away, Neil and Eddie: Our loft is located on Pine Avenue in the Historic district of Downtown Long Beach. The Courtyard Lofts are the sleek, modern outcome of an award-winning adaptive reuse architectural undertaking that blended two existing retail structures and transformed them into 16 ultramodern residential lofts.
(Image credit: Submitted by Neil)
(Image credit: Submitted by Neil)
(Image credit: Submitted by Neil)
(Image credit: Submitted by Neil)
A lush community courtyard garden now grows in the heart of the complex, where a commercial parking lot once stood. We absolutely love the quiet and tranquil atmosphere of this small oasis that happens to be separated by a gate from the bustling and popular Pine Avenue.

This style is very new to us and we've both decided on a "Less is More" approach. We both love the fact this loft is a blank canvas that is always evolving. We're constantly moving furniture and looking for unique artwork to fill the space. Our inspiration is color, and lots of it since the space is primarily constructed with grey cinder block. We needed to warm the place up drastically and therefore we chose a mix of wood, textiles, metals and Atomic Orange for the main accent wall which was once a roll up warehouse door. We also have a digital art wall that I have set up using a projector, unfortunately it does not show well in pictures so you'll need to take my word. it's a great medium and conversation piece for cocktail parties.
The biggest challenge is hanging things on cinder block without making a mess. Coming from a very large home we learned that storage is a luxury in loft living, and since neither of us like clutter we have been forced to get rid of useless items and get very creative with storage...by the way if you're looking for toilet paper it's above the fridge!
Our next project is to incorporate a small sleeping area for guests, either a pull out sofa or murphy bed under the large staircase. This way guest can have some sense of privacy while they stay with us.
Thanks, Neil & Eddie!
• Interested in sharing your home with Apartment Therapy? Contact the editors through our House Tour Submission Form.