Can You Make It Through The Scariest Movie on Netflix?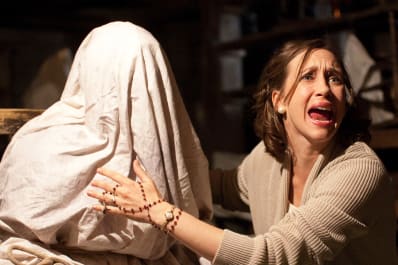 (Image credit: Warner Bros)
Netflix can be pretty tight-lipped on their viewer data (with the exception of occasionally trolling its users on Twitter), but now they are reporting that there's one horror movie on the streaming platform that many viewers are just too scared to finish.
The 2017 horror movie Veronica is one of the scariest movies on Netflix. Set in 1991 Madrid, Veronica is about a teen girl who finds herself besieged by an evil supernatural force after she plays Ouija with two classmates. Frankly, I watched the trailer with the sound off, and I'm already too scared to keep writing about this movie because I'm now convinced it is out to get me.
They also listed a bunch of titles as the scary movies viewers couldn't finish, which are technically defined as the top horror films that viewers turned it off despite making it more than 70% of the way through the movie. This could, of course, be for a variety of reasons, but more than halfway is a big time commitment to give something before ultimately deciding to hit 'stop.' Unless it's because you're terrified to keep watching!
According to the data, the other top horror films that also meet this 70% benchmark in the US are:
I am a weenie and still haven't seen Joss Whedon's Cabin in the Woods, even though everyone kept saying it was a parody of the horror genre. From what I understand, there's still a ton of blood and gore in that "parody," and so I say, no thank you. I'm definitely not going anywhere near Cabin Fever.
How many have you finished (or not) on this list? Have you ever felt too scared to stick to watching something you started?