A Once-Dull House is Now a Serene Retreat Thanks to the Power of Fresh Paint
We independently select these products—if you buy from one of our links, we may earn a commission. All prices were accurate at the time of publishing.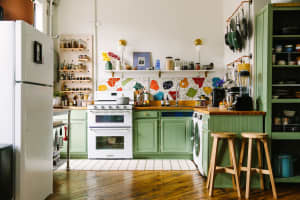 Can't-Miss House Tours Straight to Your Inbox
Keep up with our latest house tours each weekday with our House Tour of the Day newsletter
Name: Meredith and Luke Coe + our 1.5-year-old son, Nathan
Location: King of Prussia, Pennsylvania
Size: 1,830 square feet
Years Lived In: 1.5 years, owned
My husband and I bought this home (our first!) in May of 2017. It was very dull and slightly neglected when we first bought it—all of the walls were a shade of brown or yellow and the floors were in need of some serious TLC. We've been able to make several minor updates that have really helped turn it into a space we love! (The power of fresh paint is truly incredible!!)
My favorite part of finally owning instead of renting is that we can make all the changes to it that we want. I love finding new budget-friendly DIY projects that I can try out! Sometimes this means that I have several unfinished projects throughout our home—luckily, my husband fully trusts my judgement! He's always so patient while I push my DIY boundaries! When we're not working on our home, you can probably find us chasing our toddler around the house (literally—he runs laps around the first floor)! We also love having friends over for dinner and drinks, and if I'm feeling fancy I may even put together a pretty cheese board and tablescape!
"I read a quote somewhere a long time ago about how you can always find a perfect color palette by just looking in nature—those colors were made to go with each other!"
Apartment Therapy Survey:
My Style: I'd say my style is a mix of California casual, boho, and a little mid-century modern. Ever since having my son, I've found I'm much more drawn to neutrals. I think it's because he's so full of energy that once he goes to bed, I need my home to feel calm and serene so I can recharge!
Inspiration: I'm inspired by so many different talented designers, but my number one design crush is definitely Amber Lewis. I also get inspired when I'm driving around and looking at the different colors and textures in nature. I'm always stopping to take pictures of sunsets or beautiful trees/plants. I read a quote somewhere a long time ago about how you can always find a perfect color palette by just looking in nature—those colors were made to go with each other!
Favorite Element: All of the natural light our home gets. On sunny days, every single room in our home is flooded with light!
Biggest Challenge: Staying organized. Luke and I both feel stressed in a cluttered home and I've definitely gotten into the bad habit of shoving things in random drawers to get them out of sight. We're trying to jump onto the Marie Kondo bandwagon though and declutter room by room!
Proudest DIY: Our best DIY to date is definitely our kitchen makeover. When we moved in, the kitchen had those orange-y dated looking oak cabinets, backsplash with fruit on it, and weird tannish/beigey colored countertops.
The first thing we did was paint the cabinets white—that alone made a HUGE difference. A few months after that, I painted our backsplash white. Once the backsplash was bright white, I decided that I HAD to do something about the counters…there's always a domino effect with home projects! I researched and read every single DIY post out there about painting countertops.
I finally decided that I would paint a marble design and then seal with epoxy. It took an entire weekend and a few days to let the epoxy fully dry. The finished product was SO worth it though. I will say that the epoxy we used has yellowed a bit in some areas, so in the future I would do more research on the different types of epoxy. Even though some areas have yellowed, it still overall looks so much better than before! A full-on renovation isn't in our budget right now, so I'm pretty proud of what we were able to accomplish with just a few hundred dollars!
Biggest Indulgence: Probably our West Elm sectional. We had an older sectional from somewhere else for such a long time; I was so excited when Luke finally agreed to get a new one! We could not be happier with our choice—I never realized how important the depth of a couch is!
Best Advice: Plan and take your time when decorating your home. It is perfectly OK to have empty walls until you find that perfect piece of art to hang, or to re-style your shelves a million times until they feel right! Also, check out your local Goodwill for decorative pieces. The unique decor will help add character and personality to your home. I've become a huge fan of mixing old and new in our home!
PAINT & COLORS
Sherwin-Williams – Pure White
Sherwin-Williams – Smoky Blue (Dining Room)
Sherwin-Williams – Cyberspace (Interior Doors)
Sherwin-Williams – Breathless (Guest Room)
ENTRY
Shoe Cabinet – IKEA
PLAYROOM
Loveseat — Target
Modular Play Couch/ Chair – Nugget