Design Takeaways from Jess Day (and Her Friends)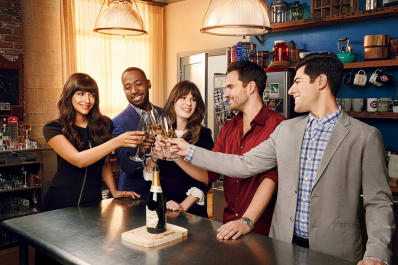 (Image credit: Jeff Lipsky/FOX)
When New Girl first premiered in 2011, I'm not going to lie, I kind of wanted to be Jess Day. Who wouldn't live in a loft with three kooky-but-cute dudes and have a killer vintage wardrobe? Sure, her love life was kind of in shambles (at least, initially), but she had great hair and an awesome pad to match. Speaking of the latter, there are a lot of decorating lessons to be learned from the set of New Girl before it goes off the air. And it's not too late, people! In fact, the sets actually got a little bit of a refresh before this season started. So let's get to examining that now iconic loft, past and present, so you can bring a little New Girl magic to your space.
(Image credit: John P. Fleenor/FOX)
Let's start in Jess' loft living room, which might be the most recognizable space from the show. Boy, is that mid-century sectional a looker! It's making me believe in leather sofas again. So many companies get leather wrong, so let this sectional be a lesson: Clean-lined caramel is always better than bulky and black.
(Image credit: Adam Taylor/FOX)
And notice that great geometric bookshelf, which is right up against the chaise. Sure, we've seen console tables and other pieces of furniture along the backs of sofas (and there is another one of these shelving units in that very spot), but the shelf-on-the-side-of-the-sectional is a bold move, and it works to divide the big open space.
The rest of the living room decor is a study in neutrals, from the wooden coffee table to the knubby rug. These kinds of colors work well with the exposed brick and don't clash with any of the other "rooms" in the apartment, which is an important thing to consider when you're working with an open layout. Jess' three dude roommates kind of knew the principles of decorating, right?
We might as well talk about the kitchen while we're at it, since it's right off the living room. What's remarkable here is the wood cabinetry. Yes, the bold blue wall paint is notable, but lighter brown and natural tones are definitely trending in the kitchen again, meaning the New Girl set designers were ahead of the curve. If you can't replace or re-stain your cabinets, one callout that might be easier to handle is that stainless steel work table-turned-kitchen island.
Two more thoughts: Slab-style open shelving is always a good idea, so long as you keep what's on display visually simple and neat. And get a look at those undermount fluorescent light bars. Not the prettiest solution, but for task lighting in a space where you chop, cut and stir, can you really ask for anything more practical?
Before we leave the kitchen, there's also a pretty cute bar setup in the corner by a big window. The take home tip here is to double up your bar cart. As you can see, there's a little metal shelving unit for half the liquor and all of the glassware and a separate wood shelving unit on casters for the overflow and miscellaneous objects.
(Image credit: Greg Gayne/FOX)
And since the dining room is in this general area as well, let's talk about the use of mismatched chairs. There's something fun about putting one or two funky chairs into a set of uniform styles—it really mixes things up.
It now looks like the set designers actually brought in matching chairs for this season, since as you know (if you're a fan and have been watching), the series has jumped a few years into the future, and the cast is all grown up now (and Nick's a super successful writer). But I like the quirkier, thrifted/hand-me-down vibe of the earlier iteration—there's more to talk about editorially there. But you also can't go wrong with comfy upholstery chairs in a dining room.
Past or present, the room also has what I think every dining space needs—a statement fixture. In this case, it's an oversized vintage factory-style pendant, which works with the industrial bones of the loft. But you can apply this design idea to any kind of room.
Then there's Jess' bedroom, which I love for the character's unabashed embrace of color. There's so much white and gray in interiors today, so it's nice to see a saturated turquoise shade on those walls. You could argue that this color might be a little high voltage for a sleeping area, but I think it's just dark enough to feel like it's enveloping—not energizing. A rich hunter, cerulean or jade green could also work in a similar way.
That bedspread though! I'm dying to know the source behind that one. The fabric looks like Josef Frank, but I can't be sure. Again, this is a radical departure from the white, crisp hotel bedding we're seeing everywhere these days, and I'm all about it. It certainly suits the boho, vintage-loving Jess.
And what better way to fill blank space than a casual gallery wall? Jess' bedroom has not one but two small, artful arrangements—over the headboard and over her two-toned dresser.
So, we've worked our way through the New Girl set and, I think, learned a few tricks for snagging Jess and company's style. What's your favorite feature of the set? And more importantly, are you ready for the finale?